Great Haddon development L&G's latest attempt to grow suburban rented housing business
Insurance giant L&G has signed a deal with Countryside to buy a 117-home development in Great Haddon, Peterborough as it looks to grow its new suburban build to rent housing business.
The scheme (pictured below, right), part of an urban extension to Peterborough, is being built out by Countryside and will include two, three and four-bed houses targeting families, with the homes to be adapted for home-working.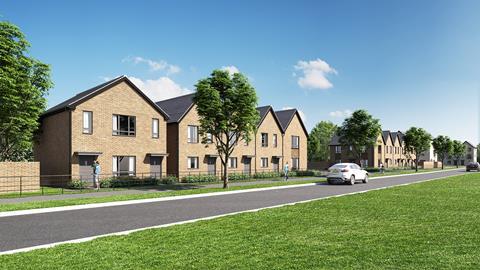 The £25m purchase follows L&G's announcement in November 2020 it was setting up a 1,000 homes-a-year build to rent business targeting suburban locations, part of its portfolio of development businesses.
The venture has already submitted plans for 221 rented homes in its £1bn North Horsham development, and last year poached staff from Grainger, Savills and Durkan to lead the business.
It calims its pipeline currently stands at around 750 homes, and is on course to be producing 1,000 new homes a year by 2024.
Last year saw a rash of firms launch suburban build to rent ventures, following the success of pioneers such as Sigma Capital in recent years. The build to rent market which has grown up over the last decade was initially almost exclusively focused on building apartments in city centres for young professionals.
L&G itself has over 5,500 apartments designed for rent either built or in development across the UK's major towns and cities.
However, last year the British Property Federation said that around one in ten completed build to rent homes are now house in suburban locations, rather than flats.
David Reid, the managing director of L&G's Suburban Build to Rent business, said "This is about providing high quality rental housing for families across the UK, as working practices and lifestyle demands continue to evolve. We are delighted to be developing our first scheme with Countryside to meet these aims and look forward to working with Countryside in future."