48,000-home housing association delivers 74% of affordable target, but hits lowered development target overall.
Hyde has undershot its target for delivering social housing in 2021/22, building three-quarters of its targeted amount.
The 48,000-home housing association, in its annual financial statement for the year to 31 March, revealed it built 281 homes for social rent in 2021/22, missing its target of 379.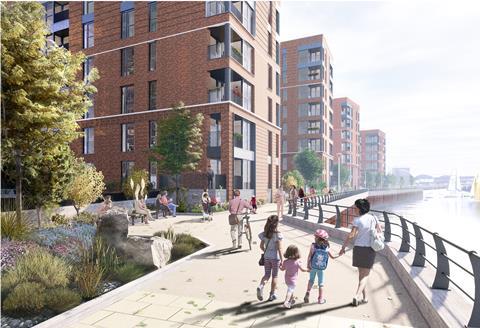 It said: "Our social rent handovers were lower than 2020/21, owing to the timing of completions in our development programme, combined with some handover delays resulting from labour and contractor shortages towards the end of the financial year".
The association however completed 96 homes for market sale that it did not expect to record in the year's accounts through its £419m Rochester Riverside joint arrangement with Countryside. This offset the underperformance in social housing completions, meaning Hyde hit its overall development target of 426 homes. It expects the social rent homes to complete in 2022/23, pushing next year's figure up.
Overall, when joint venture development is taken into account, Hyde built 30% fewer homes in the year than the previous year, delivering 456 units compared to 651. It had set a lower target for the year.
Hyde said it expects to increase its development in future years and is aiming to be building an average of 2,000 homes per year by 2025. It started work on 859 homes in the year, compared to 1,926 the previous year.
See also>> Hyde appoints banker as new chief executive
See also>> Hyde seals 2,000-home development deal with M&G
"While COVID-19 impacted our development programme over the past couple of years, we still have the ambition to manage between 75,000 and 100,000 homes by 2050", said Andy Hulme, chief executive and Mike Kirk, chair, in a foreword to the accounts.
The accounts show that Hyde's overall turnover fell by 14.9%, to £449m, due to a drop of more than £70m in income from property asset sales. It made a surplus of £94.2m, compared to a loss of £22m last year.
Hyde last month became the first housing association to register a subsidiary as a 'for-profit' provider of social housing with the regulator. The group hopes the registration of Halesworth will enable it to attract more funding from a wider variety of sources.
Housing association financial statements 2021/22