Housebuilder will strike out onerous contract clauses requiring ground rent payments to double
Housebuilder Taylor Wimpey has agreed a deal with the competition regulator forcing it to remove any leasehold clauses requiring "doubling" ground rent payments on its homes, which have rendered some houses unsellable.
The deal with the Competition and Markets Authority (CMA) means that its investigation into Taylor Wimpey for using potentially unfair contract terms has been brought to a close.
The housebuilder said the cost of the action required under the deal will be covered by the provision of £130m, made by it back in 2018 when the practice of selling homes under onerous leasehold terms first came to light.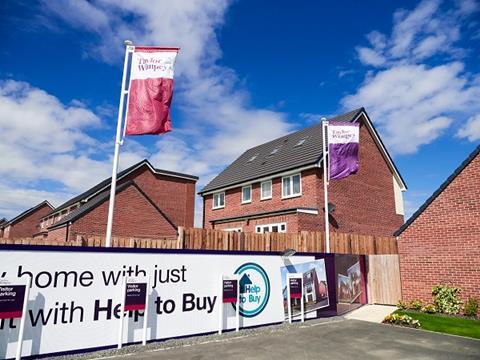 Taylor Wimpey, along with some other housebuilders, had sold homes under leasehold tenure with clauses that allowed ground rent payments to double every ten years – meaning in practice that payments would ultimately become unaffordable.
Its deal means the CMA has now concluded its investigations into three of the four housebuilders originally fingered by the regulator, with Persimmon and Countryside having also reached agreements. Its investigation into the UK's biggest housebuilder, Barratt, remains ongoing, as does its probe into three freehold investment firms which bought freeholds from housebuilders after the lease was sold.
These are Brigante Properties and Abacus Land and Adriatic Land. Freehold investor Aviva has come to terms with the CMA, ending its investigation.
Taylor Wimpey said its agreement with the CMA, under which it has given formal commitments to the Competition and Markets Authority (CMA) to remove terms from leasehold contracts that cause ground rents to double in price, meant there was "no finding that Taylor Wimpey has infringed UK consumer law".
The deal also requires the housebuilder to remove terms which had originally been ground rent doubling clauses but were converted so that the ground rent increased in line with the Retail Prices Index (RPI).
Many of the leasehold contracts originally entered into by buyers had been converted in this way after the scandal originally came to light under the Ground Rent Review Assistance Scheme set up by Taylor Wimpey in 2018. However, the CMA said today that the original doubling clauses should therefore have been fully removed, not replaced with another term that increases the ground rent by a different amount.
Taylor Wimpey has also confirmed to the CMA under the deal that it has stopped selling leasehold properties with doubling ground rent clauses – albeit it made a public commitment to this effect as far back as 2018 – and that it will make offers to freehold investors who bought the freeholds to buy them back.
The CMA began its probe into the issue of leasehold sales and onerous contract terms in February last year, announcing in September 2020 that it was beginning enforcement action against the four identified.
Persimmon reached a deal with the CMA in June, with Countryside settling in September.
It is not clear how many homebuyers will be helped by this deal, who have not already benefitted under Taylor Wimpey's existing redress scheme.
Nevertheless, Andrea Coscelli, chief executive of the CMA, said the deal was "a huge step forward for leaseholders with Taylor Wimpey", which meant they will "no longer be subject to doubling ground rents".
He said: "Other developers and freehold investors should now do the right thing for homeowners and remove these problematic clauses from their contracts. If they refuse, we stand ready to step in and take further action – through the courts if necessary."
Housing secretary Michael Gove said doubling ground rents, had "no place in our housing market", and warned that "other developers with similar arrangements in place should beware, we are coming after you."
Pete Redfern, chief executive of Taylor Wimpey, said the firm had "always sought to do the right thing by its customers, shareholders and other stakeholders, and we are pleased that today's voluntary undertakings will draw this issue to a full close, within our original financial provision."