Among those signing is Taylor Wimpey, which spent £130m last year compensating leaseholders of homes it had built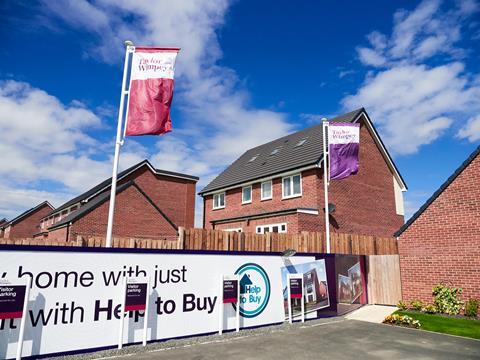 Some of the UK's largest housebuilders have signed a government-backed pledge to stop leaseholders being caught up in skyrocketing ground rent arrangements.
Taylor Wimpey is among 40 property developers and freeholders which have promised to do away with onerous "doubling clauses", barely a year after it set aside £130m to help homebuyers affected by the leasehold scandal.
In the summer of 2017 the government said it would look into the leasehold situation, after homebuyers complained of being locked into such leases.
Taylor Wimpey admitted that certain of its leases contained clauses which saw ground rent on properties it built doubling every 10 years until the lease's 50th year. It acknowledged at the time that this had caused some of its customers "understandable concern".
The housebuilder said compensation would be paid to those who homeowners who had bought directly from the firm, but not those who subsequently bought a Taylor Wimpey-built property.
The government said freeholders who had signed the pledge had committed to changing the terms of leases for those who affected, while other industry bodies, including managing agents, had also put their names down.
Communities Secretary James Brokenshire said it had been his ambition "to end those exploitative and unfair leasehold arrangements that have no place in a modern housing market.
"The new industry pledge will further support existing and future leaseholders by protecting them from onerous fees."
Brokenshire applauded Taylor Wimpey and Barratt Developments for signing up to the pledge, and he called on others who had to yet to sign to do so.
Stewart Baseley, executive chairman of the Home Builders Federation, said the industry was committed to ensuring that leaseholds were "used appropriately and remains a safe and secure tenure for homeowners.
"This pledge is a further demonstration of the industry's intent to provide homebuyers with clarity, transparency and security ensuring that when used, the terms and conditions of leases are fair and proportionate."
Some of the 40 firms which have signed the pledge
Aquinna Homes
Association of Residential Managing Agents
Aviva Investors Global Services Limited
Barratt Developments
Bellway
Bewley Homes
Bovis Homes
Churchill Retirement
Consensus Business Group
Countryside Properties
Croudace Homes Group
Davidsons Developments
E & J Estates
Estates & Management Limited
Fairview New Homes
Galliford Try
Ground Rents Income Fund Plc
Hill
Home Builders Federation
Homeground Management Ltd
Inland
Landmark Investments
Lioncourt Homes
Long Harbour Ltd
Mainstay Group Limited
McCarthy and Stone
Mears New Homes
Miller Homes
Millgate Developments (part of the Countryside Group)
Morris Homes
Nicholas King Homes
Octagon Developments
PegasusLife Group
Persimmon
PGIM Real Estate
Redrow Homes
Royal Institution of Chartered Surveyors
Spitfire Bespoke Homes
St. Modwen Homes
Stewart Milne Group
Strata
Taylor Wimpey
Telford Homes
Wallace Partnership Group Limited
Wates Developments
Source: MHCLG