Housebuilder agrees deal with competition regulator to help affected customers
Housebuilder Countryside has made a £5m writedown after coming to a deal with the competition regulator requiring it to take further action over leasehold properties it sold with "doubling" ground rent fees.
Under the terms of the deal with the Competition and Markets Authority, Countryside has agreed to strike out any remaining onerous leasehold contracts where it can, replacing them with ones where ground rent charges remain fixed.
It will also strike out clauses where the ground rent was previously set to double at certain periods, but was subsequently amended to rise in line with inflation.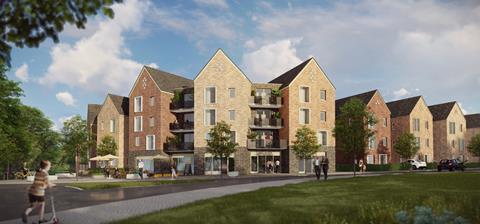 The £1bn turnover housebuilder is one of a number to have sold homes on leasehold terms prior to 2017, which contained clauses that would allow ground rent charges to hugely inflate over time. The practice has rendered many homes worthless, trapping occupants in unsellable houses.
Last month housebuilder Persimmon and insurer Aviva agreed a deal with the CMA over their part in the practice. The CMA is continuing to investigate Taylor Wimpey and Barratt, as well as freehold investment firms Brigante Properties, and Abacus Land and Adriatic Land.
Under the deal with the CMA, Countryside said it will remove the "doubling" ground rent clauses unilaterally where it is the freeholder. Where the freehold has been sold on to an investment company, "Countryside is seeking agreement with the owners of the freeholds to remove the doubling clause from each lease".
The firm has already spent £10m compensating buyers of leasehold properties over the scandal, under a Ground Rent Assistance Scheme it set up in 2017.
However, this only dealt with homes where the ground rent charges doubled every ten years or less – leaving those where rents doubled every 15 years without assistance – and simply converted those lease contracts to make ground rent rise in line with inflation.
The housebuilder said in response to the announcement that it expected to make a "further provision of £5m" to cover costs.
It is not known what proportion of Countryside properties affected by the problem were never converted under the previous scheme, or how many were subsequently sold on to investors – meaning Countryside is not in a position to help buyers directly.
Andrea Coscelli, chief executive of the CMA, said Countryside's leasehold customers could now "breathe a sigh of relief" knowing they will no longer be forced to pay these doubling ground rents.
See also>>Genius or folly? Why Countryside's decision to get out of housebuilding is causing a stir
He warned the body still stood ready to take other housebuilders under investigation, such as Taylor Wimpey, to court if they didn't agree to compensate buyers. "We will continue to robustly tackle developers and investors – as we have done over the past 2 years – to make sure that people aren't taken advantage of," he said.
Countryside said the "voluntary undertakings" given to the CMA marked the close of its investigation into it.
Iain McPherson, chief executive of Countryside, said: "Countryside has engaged extensively and constructively with the CMA throughout the course of its review to reach this positive outcome for affected leaseholders."
Housing Secretary Robert Jenrick welcomed the deal, saying: "This settlement with Countryside will mean thousands more leaseholders are given the fair treatment they deserve and marks the third major agreement with leading UK developers and investors. I strongly urge others to follow suit and end these historic practices.