Housing association increases turnover and surplus with sales revenue boost
Notting Hill Genesis (NHG) has increased its annual surplus by 48%, largely due to an increase in property sales.
The housing association giant, in its accounts for the year to 31 March, reported a surplus of £144.7m, up from £98.1m the previous year.
Its operating surplus increased £50m to £262.6m over the same period, while turnover for the year was £909.1m, a 24% increase on the previous year's figure.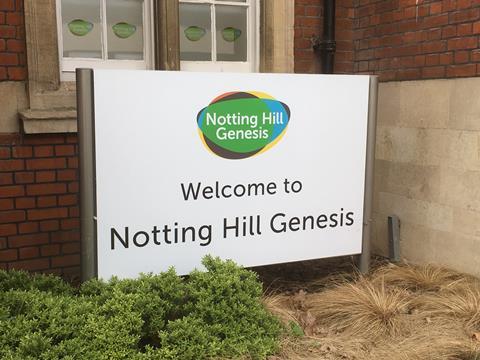 The 48% increase in surplus was driven primarily by a £151.6m increase in sales revenue, from £181.3m in 2019/20 to £332.9m in 2020/21.
The 66,000-home association increased its combined surplus from shared-ownership first-tranche sales and open-market sales by 164% from £27.8m to £73.6m. The group reduced its number of unsold homes from 610 to 548.
The group's surplus was also boosted by the sale of its Canada Water docklands site in London. NHG was originally planning a residential scheme on the site developed with Sellar Design and Build, but instead sold it to German investor Art Invest Real Estate for £140m for a commercially led scheme. This sale helped boost the surplus from sales by £6.1m.
The results mean NHG has bucked the trend among the largest developing housing associations in reporting a large surplus increase, rather than a falling or flatlining surplus. Other giant housing associations, including Clarion, L&Q, Peabody and Sovereign, have reported a drop in surplus in 2020/21 amid covid-19 disruption.
Paul Phillips, the outgoing chief financial officer at NHG, said: "The results give our customers, investors and other stakeholders confidence in our ability not only to withstand challenges within the housing sector but also to continue to deliver homes for a range of needs across the capital."
The housing association did, however, reduce the amount of money spent on new housing, from £468m in 2019/20 to £335m in 2020/21. It completed 1,342 new homes, down from 1,962 the previous year.
The drop means NHG's spending on new homes has nearly halved since the £654m spent in 2018/19. The group had taken the decision to cut investment in homes in 2018.
In a note in the accounts, Phillips said: "We decided to reduce the amount of money spent on housing because we found that the housing market in London wasn't buoyant enough to absorb the number of private and shared-ownership homes being completed by NHG. We expect to stay at a level of £300m to £400m over the next few years."
NHG also increased its major works budget by £15.5m in 2020/21 for fire safety remediation work and expects to spend £173m of its own resources on building safety over the next few years.
The group also this year published its first environmental, social and governance (ESG) report alongside its accounts.
NHG earlier this month announced it has appointed Network Rail executive Yomi Okunola as its new chief financial officer.
What are housing association surpluses?
Housing association surpluses are calculated by deducting expenses from income. They differ from profit as they are not paid to shareholders but instead reinvested in building homes and funding services.
Associations aim to post surpluses over a period of time to maintain lender and investor confidence, assure the regulator of an organisation's viability and ensure the business is well-positioned to cope with unforeseen events. Surpluses can be used as future working capital to enable organisations to fund development while reducing their reliance on grant, debt or other types of funding.