Negotiators working on text of "pledge" to remediate housing blocks - but funding for 'orphan' buildings unresolved
Housing secretary Michael Gove is on the verge of agreeing a deal with the Home Builders Federation which will see housebuilders agree to repair housing blocks affected by the fire safety crisis going back 30 years, Housing Today understands.
Two separate sources close to the negotiations said the Gove's department and the housebuilder trade body were close to agreeing the wording of a pledge, which individual housebuilders would then be expected to sign, committing builders to remediate all properties above 11m built within the last 30 years with fire safety issues.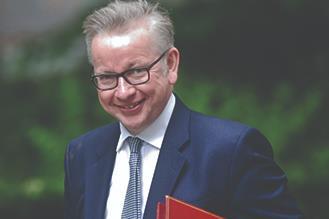 This comes after Gove (pictured, left) earlier this month set a deadline of the end of March for a deal to be reached on the issue.
However, sources said there was no sign of a deal on the parallel issue of the housebuilding industry's wider contribution to pay for repairs to so-called "orphan" buildings where owners cannot be traced – for which Gove has demanded a £4bn contribution from the sector, and which he said should form part of the deal.
The sources close to the negotiation said the "pledge" which was being finalised was set to commit housebuilders to the following:
To remediate buildings taller than 11m they have previously built that now have identified fire safety issues
To do so on all such buildings going back 30 years
To do so without recourse to the government's Building Safety Fund
If agreed, the deal appears to closely echo the HBF's "offer" made to the government on February 25, which was rejected by Gove earlier this month. However, the government does look set to have secured a significant concession, with housebuilders initially offering only to repair buildings going back to 1 January 2000.
Gove said at the time that the HBF's offer "falls short of full and unconditional self-remediation that I and leaseholders will expect us to agree".
>> The true cost of Gove's new cladding policy on the housebuilding sector
>> Building safety row explained: Is Gove really going to shut down housebuilders?
One source said the wording of the pledge was now expected to be agreed within the next few days, with housebuilders then likely to be asked to sign up individually. It is not known if all UK housebuilders will sign up to the pledge.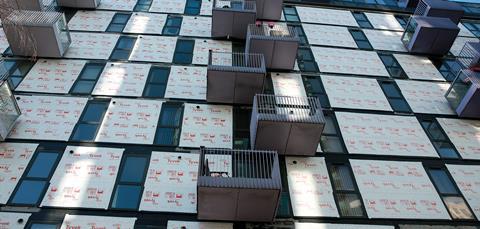 Gove has used amendments to the Building Safety Bill, currently in Parliament, to bring in powers to prohibit housebuilders who are not deemed "responsible actors" from gaining planning and building control approvals. While the government has not set out exactly how this will work, it is thought likely that builders who do not sign any agreed fire safety pledge will not be deemed "responsible actors" under the legislation – thus putting their ability to trade at risk.
One of the sources close to the negotiation said the question of the £4bn wider contribution was now being passed on to a separate "round two" discussion over a future Building Safety Levy, powers for which are also include in the Building Safety Bill.
This is despite the fact Gove explicitly said in his letter to the HBF earlier this month that he was disappointed the HBF had not proposed a solution on that and that he wanted that to be part of "a fully funded plan to fix unsafe buildings [agreed] by the end of March."
Housebuilders dispute the likely £4bn cost of the repairs for "orphan" buildings of 11-18m, and say the wider industry, including product manufacturers and contractors, should contribute to the costs in any event.
A spokesperson for the HBF said: "Our members remain fully committed to the principle that leaseholders should not have to pay for necessary fire safety remediation costs. We continue to engage constructively with government alongside our members to advance discussions and find a proportionate, industry-wide solution."
A spokesperson for the Department for Levelling Up, Housing and Communities said: "Our negotiations with industry are taking us a step closer to bringing this scandal to an end for leaseholders.
"It is welcome that a number of developers are working constructively with us and have been willing to take responsibility - but to those across the housing industry that have failed to cooperate, we will have the powers to impose a solution if necessary."