Former Bovis and Galliford Try operation will deliver 1,739 homes
Vistry Homes has announced deals to build nearly 1,800 units with two housing associations.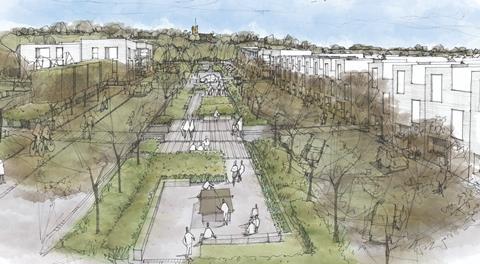 The housebuilder created when Bovis bought Galliford Try's partnerships and Linden Homes' interests at the start of the year, has signed a joint venture partnership with Aster Group to deliver 1,359 units across five schemes in southern England by 2024.
The venture is worth £167m and a quarter of the homes will be built as affordable tenures, with 250 for affordable rent and 96 for shared ownership.
Aster, founded in 1990, owns and operates around 31,000 homes. It built 1,156 properties in 2018 and plans to build nearly 11,000 more in the next seven years, at a cost of £2bn.
Vistry's partnerships operation has also got the go-ahead to build 380 homes near Exeter (pictured) in a partnership deal with Live West, the Exeter-based housing association.
Exeter city council approved the 32-acre scheme on the site of a former quarry.
Funding commitments by LiveWest and Homes England raised the level of affordable housing from an earmarked 17% to 40%.
Open market units on the development, which is expected to take eight years to complete, will be sold under the Linden Homes brand.
Last November LiveWest announced another joint venture with what was then Bovis to build nearly 2,000 homes across the south-west as part of the housing association's plans to deliver 16,000 homes within a decade.
That JV will deliver 831 homes in Taunton, 678 homes in Exeter and 398 in Tavistock over the next 15 years.
Exeter council also approved a second LiveWest scheme, which will see 60 affordable homes built to the east of the city centre.