Housebuilding giant reports strong start to sales in 2022
Taylor Wimpey has increased its annual turnover by 53.6%.
The housebuilding giant revealed its turnover for the year to 31 December 2021 was £4.28bn, bringing it back to roughly pre-pandemic levels after a fall to £2.8bn in 2020.
Taylor Wimpey's pre-tax profit increased 157% to £679.6m, but remains some way off the £835.9m recorded in 2019.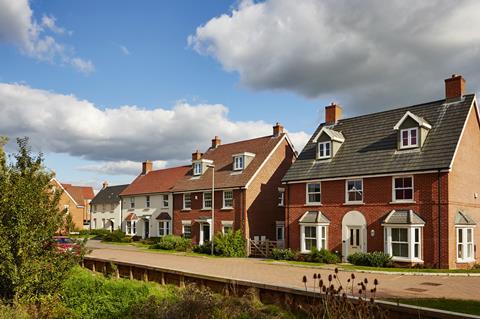 The results confirmed the business completed 14,087 homes, up 47% year-on-year and in line with expectations as previously reported.
Taylor Wimpey also reported a strong start to selling in 2022, with 1.02 sales per outlet per week compared to 0.91 in the same period the previous year. It said it was more than 60% forward sold for its private completions in 2022.
The group increased its operating profit margin from 10.8% to 19.3%, which it said was due to an "increased focus on the balance between price and sales rate to offset build cost inflation". Margin was also increased by cost savings from its 2020 restructure, increased build volumes and the absence of covid-19 costs.
It said it is focused on increasing its margin further to hit a target of 21%-22%, and will focus on "cost, process simplification and standardisation" to achieve this.
Taylor Wimpey said it expects its sales prices to offset build cost inflation, currently running at 6%, in 2022.
The housebuilder said that it supported the Home Builders Federation's letter to Michael Gove setting out a compromise deal on the issue of cladding remediation costs for tower blocks 11 to 18 metres in height.
It said: "We continue to believe this is an industry-wide issue involving many types of organisations and therefore needs an industry-wide solution. If accepted by government, the HBF proposal would result in an additional modest provision for Taylor Wimpey." The government has said however it wants the sector to 'go further' in its offer.
Taylor Wimpey said it has committed £165m to remediate its buildings.
See also>>Gove's cladding remediation fund: what are the rights of housebuilders now?
See also>> Building safety row: is Gove really going to shut down housebuilders?
The proportion of sales of homes by Taylor Wimpey through the government's Help to Buy scheme fell from 46% of sales to 19% as a result of the scheme ending in April.
Taylor Wimpey said it has altered its land buying approach, site selection and design to prepare for the change, including increasing the proportion of three bedroom homes, compared to four or five bedroom homes, in some areas.
Pete Redfern, chief executive of Taylor Wimpey, said: "Demand for our homes remains strong and we continued to drive significant margin improvement in 2021, as we optimise selling prices and maintain our strong focus on cost efficiency.
"While we recognise the challenging geopolitical, macro-economic and regulatory environment, we remain confident of delivering modest growth in completions in 2022 and of making further progress towards our operating margin target."
Redfern is standing down as chief executive after 14 years in the role. He will be replaced by insider Jennie Daly, who will take over on 26 April, becoming the first female chief executive of a major housebuilder.