Scottish housebuilder reports record results but bottom line hit by sharp cost increases in supply chain
Scottish housebuilder Springfield has paused the signing of all new affordable housing contracts in the wake of the sharp cost increases seen in recent month, the firm admitted today.
Publishing record results for the year to May 31 in which it saw completions top 1,000 homes for the first time, the firm said its bottom line had been impacted by sharp cost increases on some affordable housing contracts and by three subcontractors going out of business.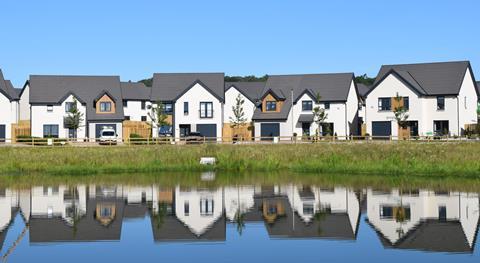 The firm said that in its affordable housing business it had, "to protect margins", "paused the signing of new long-term fixed price contracts until appropriate inflationary accommodations are introduced."
In addition, it said it had put on hold its plans to expand its private rented housing venture with Sigma Capital in the wake of the Scottish Government's decision to freeze private rents in response to the cost-of-living crisis.
Springfield, which reported revenue of £257m for the year, up 19%, said two of its major affordable housing contracts that had been signed in 2020, and therefore "modelled on much lower estimated costs" had this year been hit by significant cost increases. Three of the firm's affordable housing subcontractors went out of business, requiring Springfield to find replacements "at a higher price".
Springfield, which saw its pre-tax profit overall increase by 10% to a record £19.7m, did not say what the impact of these issues were was on the margin of the affordable housing division, however, the firm's overall gross margin fell slightly, from 17.9% to 16.9%.
The business, which bought rival Scottish housing firm Tulloch Homes in the financial year, and which picked up Mactaggart & Mickel in June, saw its completions soar by 35% to 1,242. The results statement said that with the acquisitions, and with 75-80% of homes for 2023 already delivered, missive or reserved "the Group is on track to deliver significant growth in private housing in 2023, reflecting sustained demand and the expansion of the business."
Innes Smith, chief executive of Springfield Properties, said the business now had "excellent visibility" over the financial year ahead and the fundamentals of the housing market in Scotland remained strong. He said: "I am pleased at how we managed the material and supply chain pressures facing our industry so that, while not immune, we were able to mitigate much of the impact.
"While the challenging economic backdrop will impact our affordable and PRS housing activity in the short term as we await decisions from the Scottish Government, we are on track to deliver another year of revenue and profit growth overall."