G15 housing association saw housing starts fall by a third in pandemic year
Major London housing association Optivo saw its development activity reduce by a third during the pandemic year, according to preliminary results released for the year to March.
The 45,000-home social landlord said it will continue to ease off its development growth as housing starts reduced from exactly 1,500 in the 2019-20 financial year to just 1,002 this time.
The unaudited 2020-21 results also showed that completions dropped by a similar level, from 838 homes to 577, as the organisation continued its focus on building affordable homes rather than homes for open market sale. It spent £208m on new-build housing, it had, plus a further £56m on planned maintenance and major repairs.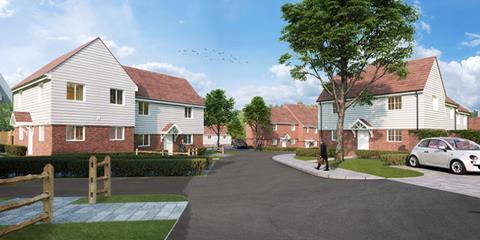 Despite the pandemic slowing activity on site, and fears over a rise in rent arrears, the organisation reported it had manged to increase its operating surplus to more than £100m as tenants' arrears actually fell.
Sarah Smith, chief financial officer, said the results validated Optivo's decisions to focus its investments in its core social housing activity. She said: "Our priorities are clear. With requirements evolving, we're investing more in building safety and energy efficiency programmes. To keep our financial metrics where we want them, we're easing our pace of development growth and weighting future projects to affordable lettings rather than sales."
The organisation's decision follows increasing concern from social landlords about the ability to continue to grow development activity while fixing historic cladding issues and meeting net zero commitments. In January the sector's biggest builder, L&Q, said it was slashing its five year building targets by 70%.
However, the landlord said the number of houses it had in its development pipeline under contract had actually increased, given a big increase in the number of social and affordable rent properties it was planning to build.
In total, its "under contract" pipeline increased to 2,828 homes from 2,558 as affordable properties for rent in the pipeline soared by 44%. And despite Smith's comment on easing off development activity, its financial statement said the organisation was targeting a further 1,000 starts in the current financial year.
Kent-based Optivo, one of the G15 group of the biggest London housing associations was in 2017 awarded nearly £90m by London mayor Sadiq Khan to build 2,600 homes in London, and also in 2018 secured a further £45m from Homes England to build outside the capital.