Current Optivo boss Paul Hackett will be chief executive of the merged organisation
Housing associations Optivo and Southern Housing Group have named a designate executive team for their merger, which they hope to complete by the end of the year.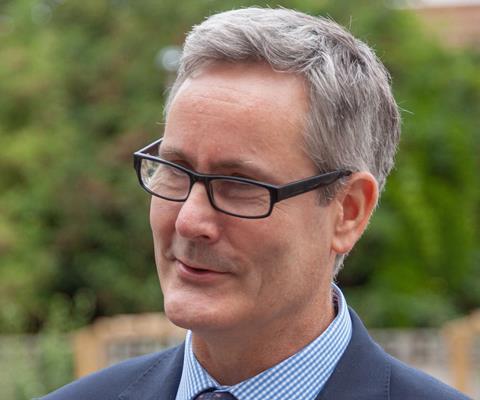 Current Optivo boss Paul Hackett would become the chief executive and Alan Townshend, now the group chief executive of Southern Housing, would be his deputy.
The full named designate executive team is:
• Paul Hackett - designate chief executive
• Alan Townshend - designate deputy chief executive
• Sarah Smith - designate chief financial officer; currently chief financial officer at Optivo
• Jane Porter - designate chief operating officer; currently chief operating officer at Optivo
• Richard White - designate executive director development & sales; currently executive director of development and sales at Optivo
• Yvette Carter - designate executive director contract services; currently group director property services at Southern
• Jenny Poore - designate executive director people & culture; currently group director people & communications at Southern
Joanne Stewart, currently on Optivo's executive team as its executive director for people, is not named in the designate list. Neither are a number of members of Southern's current executive team: Kerry Kyriacou, group director development & assets, Tracey Gray, group director customer services, Amanda Holgate, chief financial officer, and Jason Wickens, chief information officer.
A spokesperson for Optivo said its "executive director for people Joanne Stewart chose not to apply for a designate role". They added: "However, Joanne will continue to lead Optivo's people directorate and support Optivo up to the merger."
Alan Townshend, group chief executive at Southern Housing Group, said: "Given their expertise and experience within the sector, we were fortunate to have Tracey Gray and Kerry Kyriacou join as interim directors with their full knowledge that they would remain part of our executive team until we potentially merged.
"We are sure that Amanda Holgate and Jason Wickens will let their networks know what they have planned in the near future. In the meantime, all of our group directors will remain at Southern Housing Group, forming an important part of our executive team until the merger is agreed and an integration plan is formulated."
The boards of both organisations backed a proposal to merge in March this year to create a new 77,000 home social landlord. The new organisation would be called Southern Housing.
Hackett has said rapidly rising construction costs and the need to invest in existing stock is driving the merger.
Subject to due diligence and successful negotiations, the two housing associations hope to complete the merger by December this year.
Consultant Greg Campbell wrote for Housing Today in March on the key factors driving mergers in the housing association sector in the current environment.
The exec team decisions come in the wake of shadow board member appointments which have already been announced for the merged organisation. These are:
• Sir Peter Dixon - chair; current chair of Optivo Board
• Janet Collier - vice chair; current chair of audit and risk committee at Southern Housing Group
• Carol Rosati - chair of people committee; current Southern Housing Group board member