Chair of public-private partnership developer says £200m Fund has more major deals in pipeline
A long-running regeneration joint venture between Homes England, Muse and L&G is set to significantly expand its output, Housing Today can reveal, with a number of major deals in the pipeline.
The English Cities Fund (ECF), which has been behind major public-private regeneration schemes in Newham, Salford, St Helens and Plymouth over the last 20 years, last year committed to deliver 6,500 homes over the next 10 years.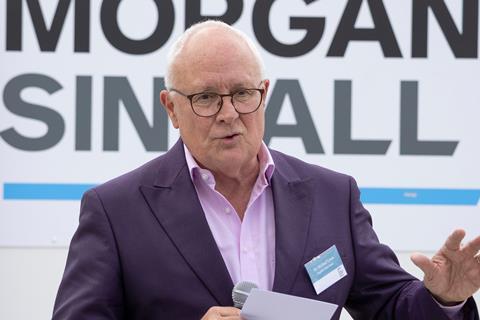 However, the chairman of the Fund, Sir Michael Lyons, told Housing Today that the body, which yesterday signed a deal with Bradford Council for a 1,000-home redevelopment of a large city centre site, had a number of such deals in the pipeline and was now looking to go beyond the 6,500-home target.
The ECF was set up in 2002 in the wake of the Urban Task Force report as a vehicle by which to facilitate the redevelopment of publicly-owned sites which the private sector on its own was not prepared to take on. The Fund is structured as a limited partnership between the government housing agency, Homes England, Morgan Sindall-owned regeneration developer Muse, and insurance giant L&G, and says it has delivered £1bn of development in the last 20 years.
Lyons, speaking to Housing Today in an exclusive interview to be published in full tomorrow, said that the current £200m size of the Fund might have to be increased in order to cope with the increased amount of development now envisaged.
The Fund is about to embark on its huge second scheme in Salford, Salford Crescent, under which it has plans to build 2.4m sq ft of research and industry space, a hotel, retail space and more than 2,650 homes, while in March it also announced a new partnership with Wolverhampton council.
However, Lyons said there was the Bradford project and two further as yet unannounced major projects also now in the pipeline. Asked about the 6,500-home target, he said: "Oh I think we will go beyond it [the 6,500]", he says. "We're absolutely confident of the support we've got from Homes England at the highest level and throughout the organization."
Asked whether this meant that the ECF might expand its £200m funding, which is derived from the partners and from bank lending and is used to fund the working capital requirements of its development activities, he said: "[Yes], as soon as we need it."
"If we now expand the areas we're working in, as we have done in Salford and St. Helens, and we will do in Wolverhampton and the other three [pipeline deals], then you need to expand your working capital to be able to do that."
The ECF was originally a £100m fund, but was expanded to £200m in 2018 in order to take on more development.
Lyons was formerly chair of the BBC, as well as author of a 2014 report for then labour leader Ed Miliband on solving the housing crisis. See Housing Today tomorrow for the full interview.