Tory chair of Environmental Audit Committee called government cost estimates "woefully inadequate"
Funding available under the the government's flagship Green Homes Grant scheme cover less than half the average cost to fit homes with energy efficiency, according to evidence cited by the chair of parliamentary select committee.
The government is currently offering homeowners and landlords vouchers worth up to £10,000 per home under the scheme, to cover two thirds of the cost of green improvements to homes.
The grants available under the scheme, which launched last month, are based on estimates from the department of Business, Energy and Industrial Strategy (BEIS) of the average cost of the improvements being around £4,700 per home.
But Conservative MP Philip Dunne said that he had been given evidence by the Northern Housing Consortium, a body which represents housing organisations in the north of England, that the cost of retrofits could be as high as £24,300 per home.
Dunne was speaking to energy minister Kwasi Kwarteng, housing minister Christopher Pincher and exchequer secretary to the Treasury Kemi Badenoch during a grilling by the Environmental Audit Committee, a cross-party parliamentary group chaired by Dunne which scrutinises the government's environmental policies.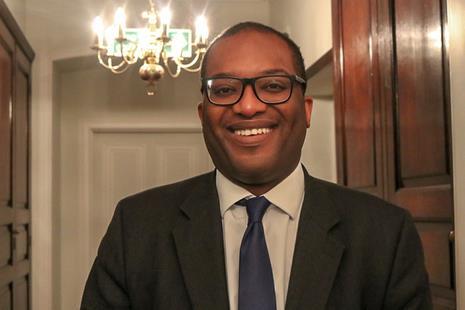 Dunne asked Badenoch: "You will have signed off the green homes grant and applied specific amounts which individual households could apply for. You must have done that with some understanding of the cost of the measures it is supposed to be funding?"
Badenoch replied that the Treasury had signed off the scheme using estimates that were even lower than BEIS' estimates, at around £3000 per home on average.
Dunne asked: "So you haven't challenged those figures, you've just accepted them although I've just given you evidence that they're woefully inadequate?"
Badenoch said: "Our officials work together so we challenge figures depending on where they come from but we have to work together in order to have an approved scheme."
According to the figures quoted by Dunne, the retrofits were estimated to cost an average of £19,300 and heat pumps were estimated to cost around £5,000 each.
Kwarteng (pictured) said: "In terms of the cost of heat pumps, that's another thing that we are trying to figure out ways, as you rightly say, of closing the gap between the cost of heat pumps and the cost of less energy efficient boilers."
Pincher said that his department was focused on new build homes and declined to comment on the cost of retrofits subsidised through the Green Homes Grant.
Kwarteng later came under fire from Green Party MP Caroline Lucas on the small amount of businesses which had been accredited by Trust Mark, the accreditation scheme for business taking part in the Green Homes Grant.
She said that according to Trust Mark, just 1,200 businesses had been accredited for a programme which the government has said aims to support 100,000 green jobs and retrofit up to 600,000 homes over the next 18 months.
Asked by Lucas how these businesses can possibly deliver on the government's ambitions on such a short timescale when most construction firms are SMEs, Kwarteng replied: "I think it's a fair question, but what I'm going to say is the take up in terms of accreditation was very much hampered by the fact that people thought until very recently that the scheme would come to an end at the end of March 2021."
He added that he hoped more firms would now apply to the scheme, which was extended until March 2022 by prime minister Boris Johnson when he launched his ten-point climate action plan in November.
The government has now earmarked £3bn for the scheme, which was first announced in July and started issuing vouchers on 5 November.