New scheme proposed for Birmingham city centre
Dandara Living has unveiled plans for a 1,300-home build to rent development in Birmingham.
The housebuilder has opened a pre-planning consultation on the proposed scheme which will be designed by Glenn Howells Architects and supported by consultant Turley.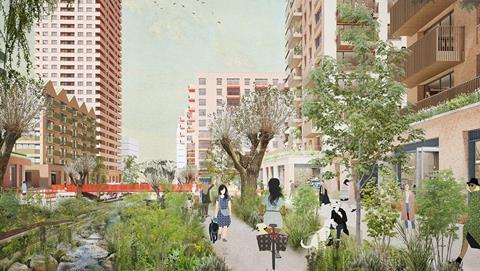 The Warners Field scheme will include around 1,300 rental homes, built and managed by Dandara Living, in a buildings range in size from 6 to 29 storeys.
The project would be the first phase in a proposed new neighbourhood that Dandara hopes will a major part of Birmingham City Council's vision for the Rea Valley Urban Quarter in the centre of the city.
The plans also include retail and leisure facilities around the River Rea, while 50% of the site will be devoted to green and pedestrian spaces.
Dandara plans to submit three planning applications related to the project by the end of the year. The public consultation runs until next Monday.
Ed Tynan, director of the Dandara Group, said: "This masterplan for Warners Fields demonstrates our commitment to the city and the collaborative ambitions of the city council.
Glenn Howells, partner at Glenn Howells Architects, said: ""This hugely exciting project, which is on our doorstep here in Digbeth, has the opportunity to create a new quarter for Birmingham that reveals and celebrates the river that was such an important part of the city's history but until now has been hidden."
Dandara Living intends to submit three planning applications to Birmingham City Council before the end of the year. The public consultation runs until next Monday.
Dandara revealed last month that it has set up a new division in the east of England to deliver 500 homes a year as it seeks to become a national housebuilder.