Housebuilder's 2021 accounts hit by cost of sale to Berkeley DeVeer, but show revenue returning to pre-covid level
Avant Homes fell to a £3m pre-tax loss in the year to April 2021, despite revenue recovering strongly from its covid-hit 2020 results.
The Chesterfield-based housebuilder, which was taken over by Yorkshire SME builder Berkeley DeVeer this year, built 1,921 homes in the period, up on the 1,759 built in the year to May 2020, and brought in revenue of £505m.
The revenue figure was up 13% on the year before and also above the pre-covid 2019 figure of £483m.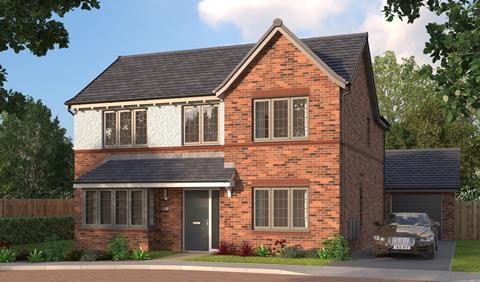 However, the business recorded a pre-tax loss of £3m after incurring £10.4m of exceptional expenses related to the cost of the deal with Berkeley DeVeer, which was backed by fund manager Elliott Advisers, and spearheaded by the controversial former Persimmon chief executive Jeff Fairburn.
The pre-tax loss is a reduction on the £17.2m loss recorded in 2020, which was largely caused by the onset of the coronavirus crisis. Despite this year's pre-tax loss, the firm recorded a post-tax profit of £6m, due to receiving a £9m tax credit.
Accounts documents filed at Companies House reveal the business increased its average selling price in the year to £286,000 and grew its operating profit to £43.9m. They also state that the business managed to retain all its existing banking facilities following the surprise takeover by £28m-turnover Berkeley DeVeer.
The documents also made clear that the deal added no new debt to the group. However, £10.4m of exceptional items – which pushed the business from an underlying profit to a pre-tax loss – were due to "the sell side costs associated with the acquisition of the Avant Homes Group by Berkeley DeVeer and Elliott Advisors".
Like many other housebuilders, Avant closed its offices during the spring lockdown in 2020, before starting to re-open them on May 26.
The acquisition of Avant came after Fairburn – who was forced to stand down from Persimmon due to controversy over his £75m bonus – was installed as chief executive of former family firm Berkeley DeVeer in January last year.
Housing Today revealed in April that Colin Lewis, the former chief executive of Avant, stood down from that business early due to fears over a potential reduction in quality of the product, following the Berkeley DeVeer takeover.
Lewis said he understood that what the "Avant model" of prioritising product, people and principles was not being taken forward by the new owners. However the business rejected the comments, saying it would retain an "unwavering focus on delivering […] high-quality, design-led homes".
Avant has been contacted for comment.