Two homes fuelled entirely by hydrogen will be showcased to public as part of government-backed project
Two homes fuelled entirely by hydrogen are being showcased to demonstrate the potential of the new energy supply in helping the United Kingdom decarbonise its housing.
The temporary demonstration homes, the first of their kind in the UK, were opened by energy minister Anne-Marie Trevelyan yesterday.
The two semi-detached homes in Gateshead, have been built in a partnership between gas distributors Cadent and Northern Gas Networks (NGN) and the Department for Business, Energy and Industrial Strategy (BEIS), to "provide the public with the opportunity to experience a zero-emission gas-fuelled home of the future".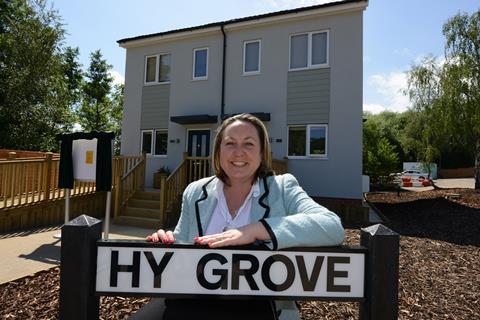 The appliances in the homes, including boilers, hobs, cookers, fires and a barbecue are all fed with hydrogen and therefore, unlike natural gas, do not have emissions at the point of use.
Different manufacturers will take turns in putting their hydrogen appliances in the homes, which will be opened to schoolchildren, college and university students to educate them on the energy requirements of housing and decarbonisation.
The project is being supported Hy4Heat, an initiative set up by BEIS to look at the feasibility of replacing natural gas appliances with those fuelled by hydrogen.
Trevelyan said: "In order to tackle climate change, changing the way people power their homes, from cooking, heating and running a bath, while making sure consumers pay a fair price, is critical so that the UK moves away from using fossil fuels and cuts its emissions."
The hydrogen demonstration homes are part of the UK government's drive to look at low-carbon energy solutions, alongside its Ten Point plan for a green industrial revolution, published in November. The government is aiming for 5GW of low carbon hydrogen production capacity by 2030. It wants to scale up to produce a 'hydrogen town' by the end of this decade.
The opening of the demonstration homes is likely to re-ignite the debate about the extent to which the UK should focus on hydrogen, which can be distributed through the current grid, or heat pumps, which are seen as highly efficient at converting energy into heat.
See also: Net zero carbon homes: is hydrogen the solution?
Watch a video about the hydrogen homes: