But Glenigan review detects early signs of trouble in wider construction industry as materials shortages begin to bite
New social housing output jumped by 13% in the second quarter of this year compared to the first while private housing rose by 7%, according to a new report.
Information provider Glenigan's July construction review found that the overall level of new build output rose by 6.6% in the second quarter of 2021, and has now increased by more than a third on 2020 figures.
Repair and maintenance work also grew by 6%, 36% ahead of figures a year ago. The report said that this could be in anticipation of recent changes introduced by the Building Safety Bill which will tighten the regulatory framework within the housebuilding sector.
But the report found early signs of trouble for the wider construction industry with the value of project starts crashing by 17% in the second quarter compared to the preceding three months.
And the number of planning approvals dropped by 14% compared to the first quarter of 2021, and are down 9% on last year.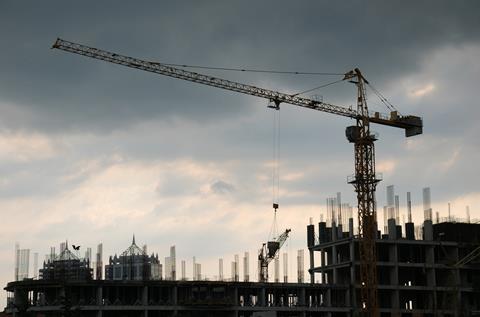 A lack of green lights for major projects are driving the trend, with approvals down by a third on the first quarter and over 50% on last year.
Glenigan economics director Allan Wilén said the dip may be the result of disruption to council planning departments during the first lockdown last year but added that it was "something to watch to see whether it is the start of a more serious trend".
The volume of work carried out on sites also slipped by 0.8% in May in further signs of a slowdown in the post-covid rebound, with the report warning that material and labour shortages are likely to blame.
But Wilén said the industry was not entering a long-term slowdown and described the figures as a "pause for breath" following months of explosive growth earlier in the year.
He admitted that while the 17% drop in project starts "sounds awful", it represented a general tailing off of the industry's initial post-covid resurgence.
He added: "Supply constraints such as the logistics issue and material supply disruption are perhaps tempering the pace of the amount of work on site and the amount of project starts."
The report also found that awards of main contracts rose by 12% in the second quarter, up 82% on last year and 9% higher than before the pandemic in 2019.
Yesterday, the Construction Products Association forecast that output would rise by 13.7% in 2021 and 6.3% in 2022, with infrastructure and private housebuilding expected to be the key drivers of growth.
But it warned that material and labour shortages, which it said are likely to persist for the next 12 months, are now the "key constraint" on growth.