Japanese housebuilder will help Manchester developer build 2,000 modular homes a year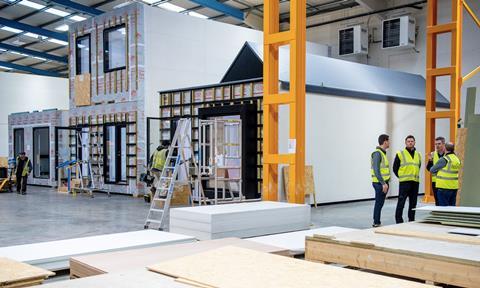 Urban Splash expects to build 10 times as many modular homes following Sekisui House, the Japanese housebuilding giant, taking a 35% stake in the Manchester-based developer.
Sekisui House has invested £22m in Urban Splash House Holdings, a new operation established alongside Urban Splash, with a view to ramping up capacity at the UK group's modular homes factory in Alfreton in the East Midlands from 200 homes a year to 2,000.
The Japanese firm, which is listed on the Tokyo stock exchange and has built more than 2.4 million homes across the Far East, Australia and the US, has established a team of four executives in London who will work with Urban Splash on increasing capacity with immediate effect.
And Homes England, the government's housing delivery agency, has taken a 5% stake in the new business worth just over £3m, having provided an initial debt facility of £27m. We Buy Any Car founder Noel McKee has also invested in the operation, worth around 5%.
Yoshihiro Nakai, Sekisui House's president, said building high-quality homes with short build times using modern methods of construction was one of his company's strengths.
"Our technology and know-how can help resolve pressing social issues in the UK, and I want to see us play our part – effective immediately. These operations can also help bring vitality to UK regions, and we will work to make the strongest connections with the local communities."
Urban Splash founder Tom Bloxham said bringing in new partners would leverage his firm's experience and recent investments.
"Having looked far and wide, we chose Sekisui House from Japan because of the company's unrivalled global experience in modular construction and shared values and philosophy that we are making homes not units, and a joint belief in the need for a green future."
Bloxham also acknowledged Homes England's "commitment to modular and desire to grow capacity in the UK housing business".
One of Urban Splash's three modular home varieties is a special-edition two/three-storey townhouse called the "Fab House", designed by George Clarke, who regularly appears on Channel 4 design programmes.
Clarke and Urban Splash own 55% of the business, following the latest investment moves. Recent Urban Splash schemes include New Islington in Manchester and Irwell Riverside in Salford.
Six years ago Urban Splash underwent a major restructuring after receiving financial backing from an unnamed investor, after posting a pre-tax loss of £15.4m in the year to 31 March 2012, on revenue of £33.7m.
The UK's modular housing sector is attracting growing interest from overseas investors. Last month US investment bank Goldman Sachs ploughed £75m into Top Hat, which builds homes at its factory in south Derbyshire.