Goldman Sachs' move a 'sign of our tremendous progress', says TopHat founder
Modular homes manufacturer TopHat expects to ramp up production following a decision by US banking giant Goldman Sachs to invest £75m in the business.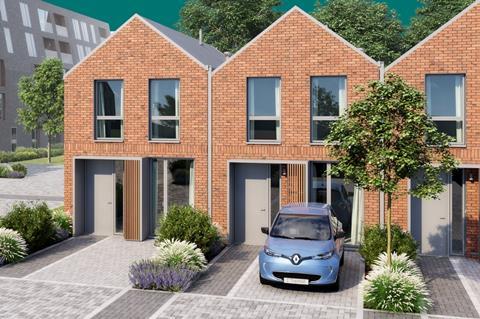 Founded three years ago by US businessman Jordan Rosenhaus, the firm kicked off production of modular homes a year ago in its factory in south Derbyshire.
TopHat will be delivering an unspecified number of two- to three-bedroom terraced houses and three- to five-bedroom town houses to a development in Chatham, Kent, called Kitchener's Barracks, which was originally built in the 1750s.
Rosenhaus said the deal was "a sign of the tremendous progress TopHat has made since it was established and the significant market opportunity in the housing and digital construction sectors in the UK.
"We look forward to engaging with our key clients and stakeholders to partner in delivering more of the high-quality, good-value homes that the UK so badly requires."
The government aims to build 300,000 homes a year from the mid-2020s and hopes offsite production of housing will make a contribution, although the numbers produced currently remain relatively low.
Estimates suggest less than 10% of the near-196,000 homes built last year were constructed offsite.
Homes England's chief investment officer Gordon More said: "If we are to increase industry's capacity to build high-quality homes offsite, it's vital others join us in our mission.
"This represents significant investment in a growing SME business that is delivering a real step change in the housebuilding industry.
"For our part, we look forward to continuing to work with a range of developers to drive innovation and make homes happen."