Mortgage lender reports slight reduction in prices in 'softer' 2021 housing market
House prices slipped back slightly in February according to the latest figures from the Halifax, contradicting numbers earlier in the week from rival Nationwide.
The Halifax said its monthly house price index indicated that prices had dropped by 0.1% in the month, following a 0.4% drop in January, to an average price of £251,697.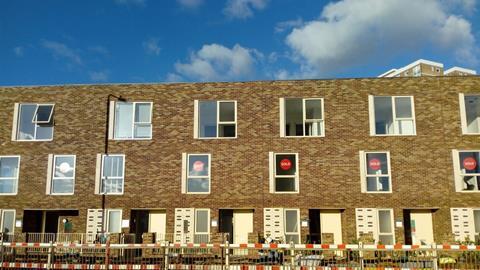 The marginal fall puts annual house-price inflation at 5.2%, its lowest reading since July last year when chancellor Rishi Sunak first introduced a temporary stamp duty holiday to boost the market.
The flat market reported by the Halifax for February is in contrast to growth of 0.7% in the month reported earlier this week by Nationwide - a jump it described as a "surprise".
It reflects the situation prior to this week's announcement by the chancellor of an extension to the stamp duty holiday introduced last year on transactions below £500,000, and a scheme to boost support for high loan to value mortgages – both of which measures as seen as likely to boost demand.
The Office of Budgetary Responsibility said on Wednesday that the stamp duty extension was likely to provoke a "little" rise in prices.
Russell Galley, managing director of the Halifax, said the index reflected a "softer" housing market at the start of 2021 than that seen in the second half of 2020. He welcomed the stamp duty holiday and mortgage guarantee scheme, which he said would remove a "great deal of uncertainty" for buyers.
However, he said the performance of the housing market was linked to the health of the wider economy, for which the pace and extent of recovery from the covid crisis was still "highly uncertain".
"Though there is the likelihood of an economic 'bounceback' from lockdown, […] higher unemployment is likely to limit new buyer demand," Galley added. "We would not expect the level of growth seen in house prices over the past year to be sustained throughout 2021."
However, Tom Bill, head of UK residential research at estate agent Knight Frank said the numbers had been rendered "largely meaningless" by this week's Budget, and that forecasters will need to re-think their numbers.
He said: "The extension will be a boost for demand and prices at a time when the UK is moving closer to lifting lockdown measures thanks to a successful vaccine roll-out programme.
"The current Knight Frank forecast is for flat prices in 2021, but the stamp duty holiday, as well as the extension of furlough scheme, means this will be revisited."