OBR says stamp duty extension will prompt price rise, while experts fear similar impact from mortgage guarantee
The chancellor's decision to extend the current stamp duty holiday is likely to push up house prices, the government's official forecaster has said. The intervention comes amid growing demands for a more fundamental review of the tax, as well as fears over the introduction of a new mortgage guarantee policy.
The Office of Budget Responsibility said that the "main effect" of the stamp duty change, which Budget documents said would cost the exchequer more than £1.6bn, will simply be to shift transactions to slightly later in the year. However, the OBR did say that the measure would also cause "some additional transactions and raises house prices a little".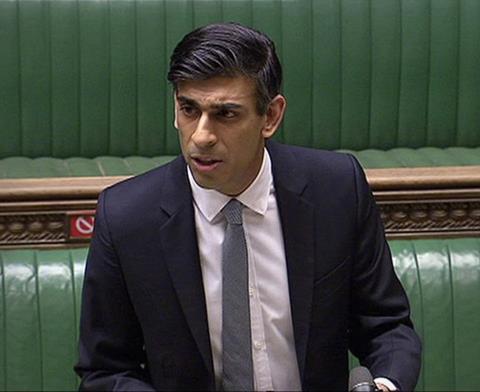 The share prices of listed housebuilders surged yesterday on Rishi Sunak's announcement that he is extending the current stamp duty holiday by more than expected. Sunak (pictured, left) said the current exemption on all properties under £500k will end at the end of June, as widely expected, but that properties under £250k will remain exempt until September.
After that point, he said, duty will return to its previous level, with only properties worth less than £125k exempt.
The announcement came as the OBR revised up its expectations of house prices by nearly 10% compared to last November, taking into account the stronger than expected market since the first spring lockdown.
It said: "Our expectation for the level of house prices in 2021 and 2022 is 10 per cent higher on average than in November."
The OBR's forecasts, published alongside the budget, said the body, which in November predicted a single-digit fall in prices in 2021, now expects house prices to rise by more than 5% this year, following 3.4% growth last year.
The OBR said the housing market had benefited from "the smaller impact of the pandemic on the incomes of high earners", for whom new homes "might have provided one outlet for those that have built up large unanticipated savings due to restrictions on social consumption".
The OBR said the government had not provided enough detail about the proposed mortgage guarantees for 95% LTV mortgages that were also announced by Sunak yesterday for it to assess the impact of the policy. It noted that there was "some evidence that a similar scheme introduced in 2013 modestly raised transactions".
Its expectation that the stamp duty extension will raise prices is likely to increase criticism of the policy from those who say that it will simply fuel an already overheated housing market.
Yesterday Michael Voges, executive director of later living developer trade body ARCO, said the measures "will not solve our housing crisis and is the equivalent of shovelling yet more cash into the furnace of rising property prices". Islay Robinson, chief executive of Enness Global Mortgages, said that 95% mortgage products, backed by government guarantees, would "take the market into pretty overheated, dangerous territory".
While neither the stamp duty holiday nor the mortgage guarantee scheme are targeted at new-build housing, Alastair Stewart, analyst at Progressive Research, said that "the more money that floods into the housing market, the more prices will rise, [therefore] it's not too bad for the housebuilders either: their margins are driven more by price than volume".
While many in the residential development sector welcomed Sunak's announcement, there were widespread calls for a more comprehensive review of stamp duty, particularly with regards to retirement housing.
John Tonkiss, chief executive of retirement housebuilder McCarthy Stone, welcomed the extension but said the industry needed a "better long-term solution" for retirement communities. He added: "Stamp duty is a key reason why older people don't move, yet we know millions are keen to downsize.
"Exempting last-time buyers moving into retirement communities from paying stamp duty would help many more live in housing suited to their needs, bring down public health bills and free up the housing chain for younger people."
Melanie Leech, chief executive of the British Property Federation, said the extension was "the right decision", but called for wider reform and a focus on measures to boost supply. She said: "The current 'holiday' has illustrated what a damaging tax stamp duty is – it stops people from moving home. Our tax system should focus on where value is created and that should mean working towards low or no stamp duty."
She said the mortgage guarantees risked inflating house prices, and that such policies had a "mixed history".
Dean Clifford, co-founder of residential developer Great Marlborough Estates, said: "Extending the stamp duty holiday is welcome news and highlights the importance of homeownership as both an economic and society-wide issue in the UK.
"The vast majority of first-time buyers are already exempt from paying stamp duty and the tax is widely regarded by economists and other policy-makers as hampering economic growth."