Mortgage lender says average prices have hit new record high after January decline
Nationwide has recorded a "surprise" leap in house prices in February, adding more weight to evidence of the housing market's resilience despite the latest lockdown.
The mortgage lender said its monthly price index rose by 0.7% in the month to a record average high of £231,068, pushing annual price inflation up to 6.9%, from 6.4% in January.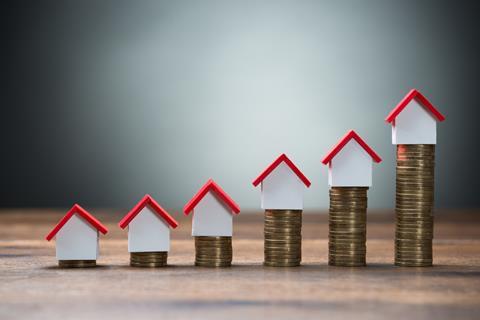 The rise in prices comes after both Nationwide and its chief competitor, the Halifax, reported modest falls in prices in January, as had been widely expected in the run-up to the end of the stamp duty holiday on March 31.
However, since then a series of indices have reported unexpectedly firm prices, with online property portals Rightmove and Zoopla both reporting rising prices amid weak supply of homes on to the market.
Robert Gardner, Nationwide chief economist, described the increase as a "surprise" given the "unusually uncertain" outlook for the housing market. He said: "It seemed more likely that annual price growth would soften further ahead of the end of the stamp duty holiday, which prompted many people considering a house move to bring forward their purchase."
Prices had been expected to fall in advance of the end of the stamp duty holiday – which has been offering buyers tax savings worth up to £15,000 – because the time taken to complete a transaction means sales agreed this year have been seen as unlikely to benefit from it. However, if, as now expected, the chancellor announces a three-month extension in tomorrow's Budget, sales agreed now may be able to complete in time.
Gardner added: "It may be that the stamp duty holiday is still providing some forward momentum, especially given the paucity of properties on the market at present. Shifts in housing preferences may also be providing a more significant boost to demand, despite the uncertain economic outlook."
Last week Zoopla said the rise in prices it was recording was caused by demand remaining at inflated levels, while the supply of homes on to the market had fallen significantly during the recent lockdown. It said prices rose 0.3% in January and were up 4.3% year on year.
James Forrester, managing director of estate agent Barrows and Forrester, said: "With a lockdown exit plan now in place, we should see the wider economic health of the nation start to improve. As a result, the potential expiration of the current stamp duty holiday simply won't impact the market as severely as some would like to think."