Proposal by Barking & Dagenham council-owned regen business Be First to redevelop 1960s estate
Barking & Dagenham council has approved plans for 900 homes from its regeneration subsidiary, Be First, to redevelop the infamous 1960s Gascoigne Estate.
The development proposals, drawn up by Be First with architect White Arkitekter, include plans for a new 1.25 acre park, green roofs and solar panels, tree planting and community spaces and shops.
Designed around the idea of a 15-minute city – where all essential local services and shops are within a 15 minute walk - Councillor Darren Rodwell, leader of Barking and Dagenham Council, said the plans would see the creation of one of the greenest and most sustainable neighbourhoods in the capital.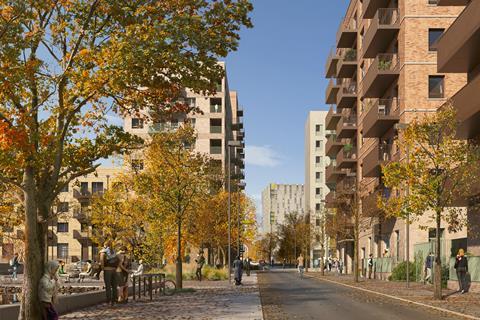 Rodwell said: "It will be a new model of 21st century urban design to meet the challenges of climate change and provide quality homes for ordinary working people."
Plan were approved by Barking & Dagenham's planning committee late last week. Be First is a regeneration and development business wholly-owned by Barking & Dagenham council with a remit to build 50,000 new homes and stimulate the creation of 20,000 new jobs.
The approval is the latest phase of the redevelopment of the Gascoigne Estate, following the approval in September of another 200-home phase of the scheme.
Jacob Willson, head of design at Be First said: "We have designed a greener, more sustainable Gascoigne which will create a healthy neighbourhood for our residents with a great new park at its heart."