Savills research shows potential impact of BTR sector investment and affordable housing grant funding
The number of homes built for rent across the private and social sectors is set to increase by 50% over the next five years, according to research by Savills.
The consultancy predicts the number of homes built for rent across the private and social sectors will increase from an average of 43,000 a year seen over the past three years to 60,000 a year by 2026.
It said: "Appetite from institutional investors will support growth of the build-to-rent sector whilst yield compression will make the sector more competitive, including in regional towns, cities and suburbs.
"High quality build-to-rent family housing could compete with demand for shared ownership in some markets."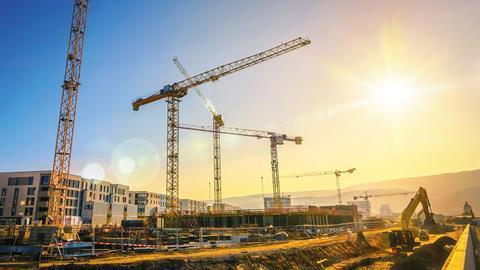 The research also forecasts overall affordable housing delivery to average nearly 60,000 homes a year, up from the roughly 50,000 delivered each year since 2018.
A greater proportion of affordable housing will be delivered via grant funding as opposed to through section 106 planning agreements.
See also>>Housing associations' development spend hit by supply chain issues
Section 106 volumes are expected to fall by 10% to an average of 25,000 a year.
This is due to an expected drop in demand for market homes following the end of Help to Buy and government requirement that 25% of developer contributions go towards the new First Homes home ownership product.
Helen Collins, head of Savills' Affordable Housing Consultancy, said: "The importance of delivering more affordable homes of all tenures cannot be overstated, so a shift from 50,000 to 60,000 new homes on average a year by 2026 is very good news.
"Within this there is going to be much greater diversity in how affordable housing is provided, with fewer Section 106 homes, but a greater proportion of First Homes.
"Housing associations will face increased competition for land, but partnerships with developers and new market entrants could offer alternative routes to maintaining affordable housing delivery."
The report also said overall housebuilding will not return to pre-pandemic levels until 2026. "This is the result of falling new homes delivery through the Covid-19 pandemic and the longer term fall in housing starts.