Britain's biggest mortgage lender backs HBF's Deposit Unlock scheme targeting first time buyers
Mortgage lender Nationwide has become the first major mortgage lender to sign up to a mortgage guarantee scheme devised by the Home Builders Federation to enable lending at 95% loan-to-value on new build properties.
The building society, which claims to be Britain's biggest mortgage lender, said it had signed up to the Deposit Unlock scheme set up earlier this year by the Federation (HBF) as a way of allowing buyers with small deposits to buy new build property.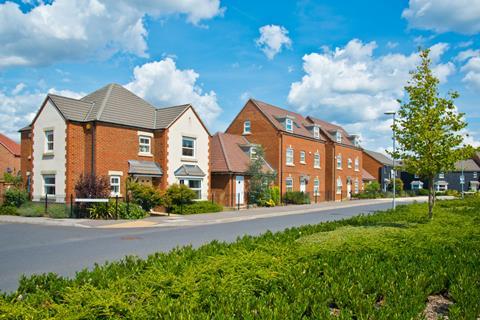 The product is needed because lenders have made clear a national mortgage indemnity guarantee scheme announced by the chancellor in March will only be used to support purchases on the second-hand market, while the government's Help to Buy equity loan scheme is being withdrawn in early 2023.
Help to Buy has supported the purchase of almost 330,000 properties worth over £90bn since being set up in 2013.
The product will allow first time buyers or second steppers access to mortgages of up to 95% loan-to-value on new build homes developed by participating builders, up to a value of £750,000.
Outside of the Deposit Unlock scheme, Nationwide is only offering mortgages of up to 75% loan-to-value for flats, and 85% loan-to-value for houses.
So far the scheme, developed by the HBF and reinsurance broker Gallagher Re, has only been taken up by one lender, the Newcastle Building Society, for loans on new build homes in the North east.
Housebuilders including Bellway, Barratt, Bewley, Bloor, Countryside, Crest, Croudance, Davidsons, Fairview, Hill, Keepmoat, Linden, Miller, Persimmon, Redrow, Taylor Wimpey, Thakeham and Vistry are already participating in the scheme, with the intention being to roll this out to further HBF members as the scheme grows.
Mortgage indemnity guarantees work by paying a fee to underwrite the lending risk of lending against homes at high loan-to-value ratios, with the fee in this case paid by the participating developer.
Henry Jordan, director of mortgages at the Nationwide, said he saw the scheme as a long-term alternative to the government's Help to Buy Equity Loan scheme. He said: "The need for more new homes has never been more apparent and we are keen to support the Deposit Unlock scheme – giving those with smaller deposits further hope that they can get a home of their own."
Neil Jefferson, managing director at the HBF, said: "Home builders have stepped up and developed a privately-funded product in Deposit Unlock which will provide buyers with a route to home ownership, including for first-time buyers without vast deposits.
"Nationwide's involvement demonstrates a very welcome commitment not only to their customers but also to the new homes market, helping us to tackle our long-term housing affordability crisis."