Five big lenders all say they won't lend at 95% on new build properties
None of the UK's biggest lenders are offering 95% mortgages on new build properties under the government's new loan guarantee scheme.
The government's mortgage guarantee scheme, launched with fanfare yesterday by housing secretary Robert Jenrick, is designed to ensure that first time buyers without significant equity are able to access the highest loan-to-value mortgages.
However, none of the five major lenders referenced in the government's press release as having signed up to the scheme are offering 95% loans against new build properties.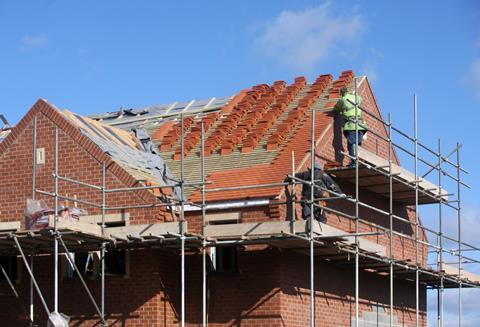 The policy, based on the Help to Buy mortgage guarantee scheme devised by former chancellor George Osborne, was announced by chancellor Rishi Sunak in the Budget last month following concern over the virtual disappearance of 95% loan-to- value mortgages since the onset of the coronavirus pandemic.
The scheme will see the government provide guarantees down to 80% of the value of a home to mortgage lenders in the event a home has to be repossessed, in a bid to persuade them to lend to buyers with smaller deposits.
While many of the largest lenders have launched products under the scheme, five of the biggest lenders – Lloyds, Barclays, Santander, HSBC and Natwest – have told Housing Today they will not be offering the loans to buyers of new build properties, with some suggesting values fall quickly after purchase.
Others pointed out that first time buyers wanting to purchase new build homes could still benefit from the government's Help to Buy scheme, albeit the Help to Buy scheme is not available on all projects or from all builders.
A spokesperson for Natwest said it had made the decision because "After purchasing a new build the value depreciates at a faster rate – we want to protect customers from the risk of being trapped in negative equity".
A spokesperson for Lloyds Bank said: "The products are currently only available to those purchasing existing residential properties, which is where we expect the majority of demand.
"We will continue to review when it's appropriate to make these products available for those purchasing new build properties."
HSBC said that its mortgages for new build properties were "capped" at 85% loan to value, while a spokesperson for Barclays said: "Barclays have not provided lending at 95 per cent LTV on new build properties for some time. Customers with a five per cent deposit looking to purchase a new build property can still benefit from our Help to Buy product range."
Launching the policy yesterday, the government said it was part of attempts to tackle inequality in the housing market by building 300,000 homes a year.
However, the Home Builders Federation said at the weekend that housing delivery rates risked falling back if no support was given for first time buyers to buy new build properties.
A spokesperson for the HBF told Housing Today that while increased activity in the second hand market would indirectly benefit new build, the scheme needed to help builders directly too. He said: "Lender appetite to use the new scheme on new build homes remains unclear. If we are to maintain housing supply levels, we need to ensure high LTV products are available for new builds, especially considering the changes to H2B that will inevitably have an impact on its take up."
Richard Beresford, chief executive of the National Federation of Builders (NFB), welcomed the move but said: "We have been here before – demand side support without supply side measures only heats up the housing market. The 'planning for the future' whitepaper needs to be turned into a bill as soon as possible, otherwise, demand will continue to outstrip supply and housing will become even more unaffordable."