Chancellor to use Budget to unveil policy to support 95% LTV mortgages
Rishi Sunak is expected to unveil a new mortgage guarantee scheme this week designed to help first-time buyers get on to the housing ladder.
Weekend press reports suggested the aim of the new policy will be to give mortgage lenders the confidence to offer 95% loan-to-value mortgages which have largely disappeared during the covid crisis. The scheme is likely to boost housebuilders already coping with the impact of the new restrictions on the Help to Buy equity loan scheme, and the Help to Buy scheme's cancellation in 2023.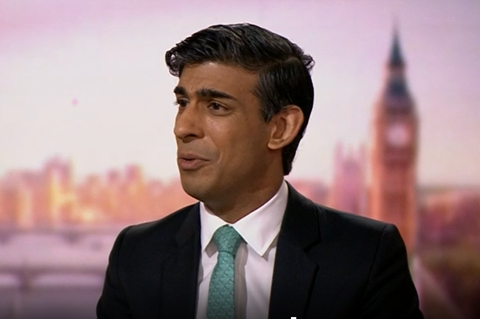 The chancellor is likely to announce the policy in his Budget statement on Wednesday, alongside a three-month extension to the stamp duty holiday on property sales below £500,000.
Mortgage guarantee schemes work by the government underwriting part of the cost of a mortgage loan so that lenders can offer cheaper loans at high loan-to-value ratios.
The market for 95% loan-to-value mortgages collapsed in the wake of the spring lockdown, with just eight products available as at December last year, compared with more than 400 this time last year.
Recent weeks have seen a return to lending at 90% loan to value, with the number of products almost doubling since January to 277, according to website Moneyfacts.co.uk.
However, even 10% deposits may cut out a majority of buyers in the most expensive areas of the country, with a 10% deposit on an average home in London equalling £62,189, according to Rightmove, and £41,444 in the South-east.
The scheme is likely to be modelled on the Help to Buy mortgage guarantee scheme launched by former chancellor George Osborne in 2013 and which was subsequently withdrawn in 2016 amid fears from some that it was stoking house price inflation.
Sunak said: "Owning a home is a dream for millions across the UK and we want to help as many people as possible.
"Saving up for a big deposit can often be difficult, and the pandemic has meant there are fewer low deposit mortgages available."
The Guardian reported prime minister Boris Johnson as saying that he wanted "generation rent to become generation buy". He added: "Young people shouldn't feel excluded from the chance to own their own home and now it will be easier than ever to get on to the property ladder."
Last week it was reported that Sunak will announce that the current exemption from stamp duty on the value of property sale below £500,000, due to expire at the end of this month, is to be extended by three months to the end of June.
The reports of the mortgage guarantee scheme launch came as the Treasury revealed plans for £4.6bn grants to help high street businesses to re-open and take on apprentices in the wake of the coronavirus crisis.