Scottish-based housebuilder sees revenue fall by a fifth to £665m
Miller Homes saw its pre-tax profit nearly halve in the 2020 calendar year as it managed the impact of the covid crisis, according to results published this week.
The privately-owned Edinburgh-based housebuilder reported pre-tax profit for the year of £64.4m, down 47% on the £122m recorded in 2019.
The annual report of the firm, the second largest privately-owned housebuilder in the UK, said turnover dropped by a fifth to £665m from £841m the previous year, as the number of completed home sales fell by a nearly a quarter to 2,544.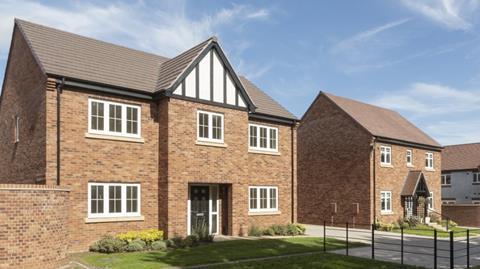 The firm recently set out an ambition to grow the business to a 5,000 homes per year housebuilder.
Its rate of return on capital employed also dropped sharply as the business was forced to shut up shop between March and May as the covid crisis first hit.
However, Miller said the drop in sales volume was offset by a 5% increase in average sales price of units sold from its three regional businesses in Scotland, the North of England, and the Midlands and South. The year saw the North overtake the Midlands and South as the firm's biggest region, with the drop in completions not as pronounced.
The firm also said the year saw it grow its consented landbank by 8% to 14,667 plots and hit a record forward sales position of £560m, up 71% on 2019.
Chief executive Chris Endsor said 2020 was a "demanding" year and that he was "extremely proud of our team's response and our ability to adapt swiftly and responsibly to the challenges faced."
The once family-run Miller Group was sold to private equity firm Bridgepoint in 2017, in a £665m deal. The group has nearly £600m of debts, including a £144m loan from Bridgepoint, and £444m of other loan notes, mostly due for repayment in 2024 – albeit this was offset at the end of the year by £243m of cash in the bank.
Last year saw the business's net debt increase from £345m to £382m, with the firm paying £51.2m in interest in the period.
Last month the firm bought an Edinburgh-based strategic land firm, Wallace Land Investments, which it said will increase the number of sites it owns by 50% and set it on course to ramp up production to 5,000 homes per year.