Sadiq Khan says there will be 'significant impact' on affordable home building without government cash
The rising cost of construction materials and labour is "severely impacting" the delivery of affordable housing in London, the capital's mayor has warned, with build prices on schemes rising by as much as 45%.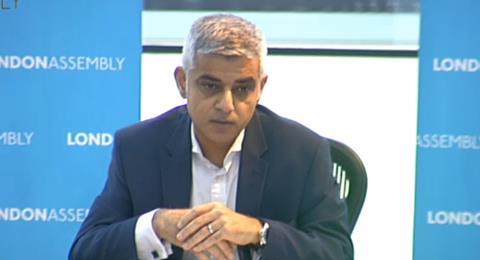 Sadiq Khan (pictured) said the "double impact" of Brexit and the pandemic was slowing housebuilding progress, with the cost of materials for housing rising by more than a fifth on average in the capital.
He said the rises were likely to have a "significant impact" on the delivery of affordable housing, with certain schemes "severely impacted", and called for additional government funding to meet the challenge.
A statement from the mayor's office said that one development site in south east London had seen tender prices spike by 45%, while another London borough said total build cost inflation had hit 17%.
The GLA has previously called on the government to provide funding of around £5bn each year to subsidise the construction of affordable homes in the capital, compared to the figure of around £1bn currently offered.
Khan also repeated his called that the government issue a one-off "coronavirus recovery visa" to allow foreign construction workers into the capital, given current labour shortages
Khan said: "The twin effects of the pandemic and Brexit has hit both housebuilders and consumers hard.
"I am calling on ministers to provide the increased funding for genuinely affordable housing in London which is needed now more than ever."
"He added that without help with bricks and mortar, and enough skilled workers, work delivering affordable homes was at risk of stalling."
Geeta Nanda, the chair of G15 group of London-based housing associations, and chief executive of MTVH, said rising costs of materials was "a real challenge".
She said: "We're working hard […] to build the homes Londoners need, but we need to address both the shortage of skilled workers and the impact of inflation on our projects."
Khan's call came as the Federation of Master Builders issued a new State of Trade Survey which found 95% of builders were seeing a rise in material costs, with 74% having put up their prices for work and 91% expecting material costs to increase in the first part of 2022.
Brian Berry, chief executive of the FMB, said: "Today's State of Trade Survey data from the FMB shows these [cost] pressures aren't going away, and there are now added fears about the impact of rising inflation."