Bank of England says net lending nearly doubled as house buyers scrambled to meet initial stamp duty deadline
Mortgage lending rose to its highest level on record in March, surpassing even the levels seen in the housing boom prior to the global financial crisis, according to the latest official figures.
The Bank of England said gross mortgage lending hit £35.6bn in March, as buyers and estate agents timed the completion of sales to hit the initial 31 March cut-off for the stamp duty holiday on properties worth less than £500k. This was a rise of 26% on the figure in February.
The Bank of England said net mortgage lending – loans advanced minus repayments made – also nearly doubled to hit £11.8bn in March, up from £6.4bn in February. Both the gross and net landing figures were the highest since the Bank of England started recording the data in 1993.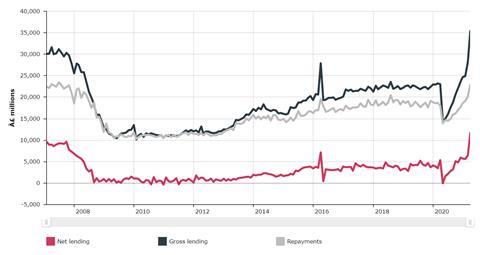 In the March budget chancellor Rishi Sunak extended the stamp duty holiday introduced in the wake of the covid crisis until June for properties of more than £500k and to September for properties worth above £250k.
The gross lending figure has only ever previously topped £30bn in a single month at the height of the lending boom prior to the 2008 global financial crisis. The Bank said: "The strong borrowing was driven by the expected ending of the temporary stamp duty tax relief at the end of March, which has now been extended to the end of June."
However, the Bank said that mortgage approvals for house purchase dropped in the month, indicating that the volume of loans in future months will not be sustained at this level.
Mortgage approvals for house purchase fell from a peak of 103,700 in November last year to 82,700 – albeit still a strong figure historically. The March number compares to 73,000 approvals in February last year, prior to the onset of the covid crisis.
However, strong house sales in recent weeks indicate that loan volumes could again expand in the run-up to the new stamp duty cut-offs in June and September. Last week the Nationwide said April saw the strongest month on month growth in house prices since 2004, with prices up 2.4% on strong demand.
The record-breaking figures reflect the period prior to the introduction of a new mortgage guarantee scheme last month which has hugely increased the volume of loans offered to buyers without large mortgages. According to website Moneyfacts.co.uk, the number of mortgage products available at 95% loan to value tripled in April, to over 110.