Yorkshire-based modular start-up moves south and expands development capability
Yorkshire-based modular housing firm Ilke is starting an ambitious expansion plan in the South and Midlands with the opening of offices in London, Bristol and Birmingham.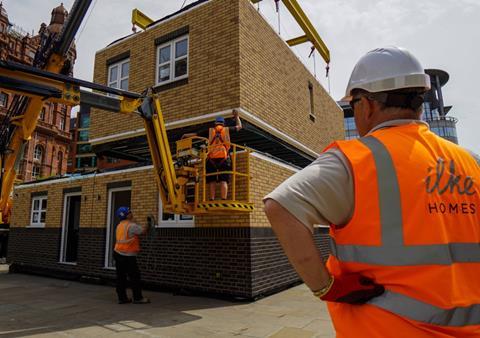 The modular firm, which last week declared itself open for business despite the covid crisis, said the new offices were necessary to oversee a near 200% growth in the firm's pipeline of demand.
The firm, which has a core business supplying modular homes for developers and landlords, also said it was expanding its in-house development arm, with the promotion of former Crest Nicholson exec Ben Miller to be chief executive of its homes and development unit.
Miller joined Ilke last year from Crest alongside alongside former Crest Nicholson executives Tom Heathcote, Tristin Willis and Matthew Bench, who will now be, respectively, the executive directors of development, construction, and partnerships at Ilke Homes.
Last year Ilke signed a £100m deal with social landlord Places for People to build 750 homes for the group.
Ilke's expansion is being funded in part by a £30m financing deal secured last year from Homes England, with a planned trajectory of producing 5,000 homes a year by 2025. Ilke claims a development pipeline of 3,200 homes, up from just 1,200 homes a year ago.
The development unit will focus the supply of fully finished homes to developer and landlord clients, including the securing of land and planning, rather than speculative building for private sale.
Ben Miller said: "Having a presence in every region will allow Ilke to better support councils and housing associations, which have a real opportunity to speed up their housing delivery with high-quality, eco-friendly homes that can be manufactured and installed quickly, while fully-complying with social-distancing measures.
"Having a turnkey offer - where we acquire land, get consent and supply finished modules - will enable us to better support clients who want to bring homes to the market more quickly."
Ilke Homes reported a loss of £22m in the year to March 2019 on revenue of just £2.6m, with the firm saying the loss reflected the investment made in the business to get it up and running.