Deal will see Ilke Homes build 750 homes for the regeneration group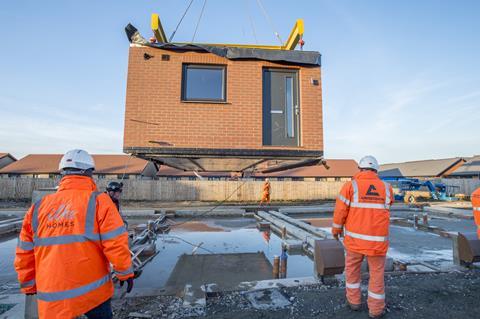 Modular homes manufacturer Ilke Homes and regeneration specialist Places for People have signed a joint venture agreement to deliver 750 factory-built homes in a deal believed to be worth £100m.
Places for People, which owns or manages nearly 200,000 homes across the UK, said it would purchase 750 units from Ilke Homes, including 500 for sites it already owns, together with 250 for new schemes the pair will work on jointly to develop affordable and market-priced housing.
The homes, which will be steel-framed, are to be made at Ilke Homes' factory in Yorkshire and then delivered on site.
No timescale has been given for when the first homes will be put up.
Housing minister and Tory party leader contender Kit Malthouse said of the deal: "This is excellent news as the UK blazes a trail in the modern methods of construction that are transforming home building.
"Today's announcement supports our urgent mission to deliver more, better and faster home construction to ensure a new generation can realise the dream of home ownership."
Dave Sheridan, executive chairman at Ilke Homes, said a mature off-site manufacturing market could create what he called an "Uber moment" for construction.
"Our deal with Places for People will help continue to grow our capacity and is a huge vote of confidence in modular housing and Homes England deserves huge praise for its entrepreneurial approach to accelerating delivery."
David Cowans, Places for People's chief executive, said his organisation planned to invest "even more" in modular housing, although he gave no details.
He went on: "We will implement efficient processes and new design techniques which not only raise the bar for the industry – but crucially, give people across the country affordable homes to live in.
"Our partnership [with Ilke Homes] is about pioneering a new way of delivering homes and disrupting the market through making socially-responsible decisions and working with best-in-class partners to improve quality, speed up housing delivery and minimise environmental impact."
According to its last financial report 45% of Places for People's £754m turnover in 2018 came from affordable housing, and as at last year it had 19,000 homes in its pipeline.
Ilke Homes is owned by private equity firm TDR Capital.