Modular housebuilder says 'safe' modular working practices helped it carry on through coronavirus crisis
Modular housebuilder Ilke Homes today said it has managed to "keep working" throughout the coronavirus crisis, benefitting from the reduced build time on site, despite most mainstream housebuilders stopping work for at least a month following lockdown.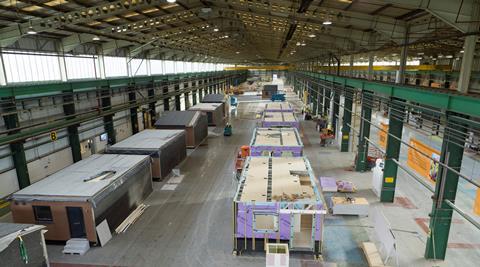 The firm said it completed a four-home scheme at Wykebeck in Leeds in April, and has continued work on six other schemes across Leeds, Derbyshire, Wakefield, Kent, Cumbria and London for completion in May and June.
Ilke said it had temporarily paused work in its factory to make "adjustments" to its processes to allow it cope with social distancing rules. But chief executive Dave Sheridan maintained the business as a whole had carried on working since prime minster Boris Johnson announced lockdown measures in March.
Sheridan said: "We have had to make adjustments to ensure we can follow safety guidelines and protect our staff, but because homes manufactured in a factory can arrive to site fully-finished, we have been able to keep working and minimise delays."
The firm said the pause allowed it to complete its multimillion pound factory investment programme, before ramping up production levels.
The UK's largest listed housebuilders all shut their sites at the end of March following Johnson's announcement, with many having only restarted in the last couple of weeks.
Ilke Homes delivers completed steel-frame modules manufactured in its 250,000 sq ft factory in Knaresborough, North Yorkshire (pictured, above, right) to sites with kitchens, bathrooms and interiors already fully fitted. The firm claims the homes can be connected to foundations and utilities within "a matter of hours" and with minimal labour, ensuring social distancing is maintained.
Sheridan (pictured, below furthest left) claimed that offsite manufacturing was the "safest and most effective" means of building new homes in line with the government's guidelines. Rival modular housebuilders, L&G and Urban Splash, also temporarily shut their factories during lockdown, though both have now reopened.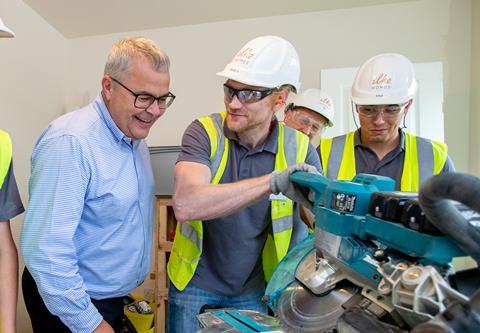 Sheridan's claims come after a grouping of major developing housing associations and modular manufacturers, including Ilke, last week launched a campaign to build 100,000 modular "Homes for Heroes" to house key workers following the covid crisis. Earlier this month Arcadis partner Richard Jones wrote in Housing Today that the drive for cleaner and quicker forms of construction post the coronavirus crisis meant the use of modern methods of construction "is probably now becoming an imperative."
Ilke also announced its new land and partnerships division has bought a trio of sites across Derbyshire, Gloucestershire and Hereford for a total of 205 homes, as part of a strategy allowing it to be less reliant on the need to find developer customers for its homes. In October the firm brought in former Crest Nicholson Midlands' managing director Ben Miller to run the new division.
The news follows Ilke's £100m deal with Places for People last year, which will see the business build 750 homes. In autumn last year it said it was looking to open a second factory, following a £30m investment from housing quango Homes England, that will take its production capacity from 2,000 to 5,000 homes a year.
Six months ago Sheridan said the firm was due to secure orders for around 1,500 homes this year. However, the business reported a loss of £22m for the year to March 2019, which a spokesman at the time said reflected its investment in its "capital intensive" manufacturing facility.