Ilke Homes boss David Sheridan spells out how the modular housebuilding operation will realise its ambitions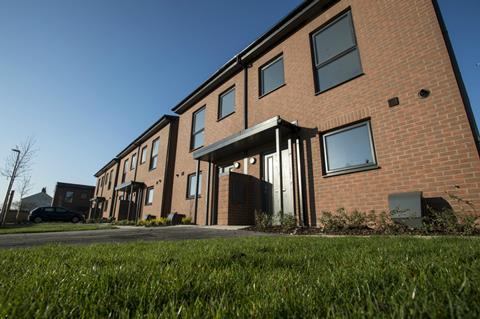 Modular housebuilder Ilke Homes formed in 2017 from a joint venture between housing contractor Keepmoat and steel frame specialist Elliott and last week bolstered its ambitions to ramp up supply after securing a £30m loan from Homes England. The financing deal follows the group signing off one of the sector's largest supply deals to date back in the summer, sealing a £100m joint venture agreement with Places for People to deliver 750 factory-built homes.
The back story:
The Ilke Homes joint venture has been designed to benefit from the joint expertise of its founding businesses, social housing contractor Keepmoat, and steel frame modular builder Elliott, which has made its name providing temporary classroom and construction work accommodation. Ilke was launched with the backing of private equity firms TDR Capital and Sun Capital with a brief to create a business producing up to 2,000 high-quality off-site-built modular homes per year.
The concept:
Ilke is designed to provide low-rise homes with a traditional feel for housing associations, councils, build to rent developers and the private sale market. Homes are built on a production line factory in Flaxby, near Knaresborough, Yorkshire and shipped by lorry in fully-finished modules for assembly on site. Chief executive Dave Sheridan, former chief executive of founding partner Keepmoat, says the cost of the homes is "hugely competitive" with traditionally built homes in the south of England and works elsewhere when savings on prelims and additional rental income from quick delivery are factored in.
Ilke has so far primarily supplied two and three bed homes to affordable housing providers including Home Group, Bolton@Home, and Places for People. But, the homes' accreditation with the NHBC and the mortgage lenders' BOPAS scheme for non-traditional-built housing means they're mortgageable, and Sheridan says 20 homeowners are already living in them. Ilke-built homes supplied to Keepmoat have been sold by the business "no problem" to home buyers, he says.
The technology:
Ilke's homes are constructed from a light gauge steel frame system, building on Elliott's expertise. This technology limits the firm to a theoretical maximum height of 6-7 stories, though it currently doesn't have an apartment product and is focusing on building two- to three-storey two-, three-, and four-bed homes. Sheridan says the technology produces "super-sustainable" homes and has "evolved" from Elliott's product, with a hybrid of steel and timber at first piloted before moving to pure steel to avoid the slight movement seen in structural wood during transportation. Sheridan says the firm has nine basic house types, all available in brick slip, render or planked external treatments, and with different options on roof types. "Modular doesn't mean it's not beautiful," he says.
Ultimately, he says, this adds up to around 100 different possible street scenes, and transport widths are the biggest restriction on the size of what it can do. Ilke's Knaresbrough facility takes a production line approach, with homes moving through the facility on a rail, but the firm has not so far invested in extensive mechanisation. "We're just at the starting of looking at what most effective use of mechanisation will be," he says. "The amount of capital needed for some of these machines is quite significant so we want to make sure that if we do mechanise we do it for the right reasons, not for vanity. I've seen some factories over in America that are highly mechanised but there's no benefit – you can do it quicker by hand still."
The strategy:
Sheridan says the £30m Homes England investment, which takes the form of a loan secured against the factory, will come in two £15m tranches which will facilitate the further growth of the business. The first tranche, he says, will ensure production capacity can expand to 2,000 homes per year, on schedule in 2020. Not bad, considering Ilke's first ever home was completed less than a year ago. By the end of this year just 200 will have been produced and installed.
Sheridan claims the business has a "great pipeline" of work and has already secured or is in final discussions on orders for 1,500 homes next year. As well as Places for People, Ilke has signed deals with Keepmoat for 500 homes and Home Group for 30. Overall, he says, he is in discussions over enquiries for around 8,000 homes. In addition to housing associations and councils, he says Ilke is talking to private developers and build to rent investors, and has set up a land team to buy its own development opportunities, which it aims to build out with partners.
He admits Ilke turned to Homes England for the loan, rather than raising money from the private sector, because the terms offered were "more cost effective" than it would otherwise have achieved, though he adds the deal also raises the profile of the business.
The future:
The business is already considering where to go next with the second half of the Homes England funding. Top of Sheridan's list, he says, is the possibility of opening another factory, to take production capacity to 5,000 homes a year, which he says the business is in "early discussions" about and which would make Ilke equivalent to a top 10 UK housebuilder. The key consideration, he says, is whether to bolt on a small additional facility in order to develop prototypes, or whether there is sufficient demand for an entirely new factory.
However, Sheridan says the business will also use the additional investment to improve and expand the product range, with an apartment product scheduled to be piloted in the new year. In addition, it is looking how to future-proof the homes with higher sustainability levels given the likely move away from mains gas supply to tackle carbon targets. "Even though what we've got is super sustainable at the moment," he says, "with changing regs we may need to go all electric."
The attitude:
Sheridan has few doubts about whether the firm will make its revised 5,000 homes-per year goal. "We're absolutely confident we'll get there. If you think we've gone from a standing start to having 200 homes delivered by year end, over 120 homes lived in – and that was in the space of 12 months. I look at the pipeline, and I'm supremely confident we can do it," he says.
The key numbers:
200 – number of homes Ilke says it will have completed by the end of 2019
2,000 – number of homes per year Ilke says it will be able to produce from 2020 onwards
750 – Number of homes it has agreed to provide for Places for People over four years
1,500 – number of homes on order for 2020
£30m – loan from Homes England, finalised this week
5,000 – per annum production capacity Ilke plans by 2025