Regeneration developer will also restart housing sites including Park Hill in Sheffield
Manchester-based regeneration developer Urban Splash is to re-open its modular factory and construction sites, the business said yesterday.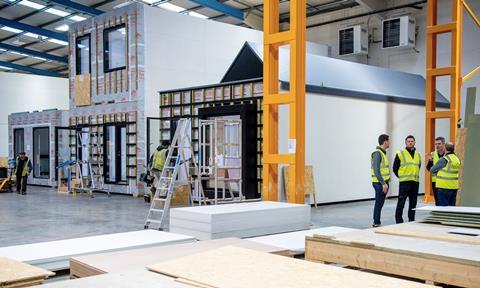 Urban Splash chair Tom Bloxham said yesterday that the firm was re-opening sites including Park Hill in Sheffield, New Islington and Avro in Manchester and Port Loop in Birmingham, as well as the enormous Wirral Waters scheme, with additional "social distancing" measures to ensure safe working.
The firm will also re-open its modular factory joint venture (pictured, right) with Japanese builder Sekisui House and housing quango Homes England, known as House by Urban Splash.
Bloxham said on Twitter that "I am very pleased to say from today we are slowly and safely getting our construction sites and MMC factory back to work , building much needed houses and workspaces around the country."
He said the news meant that many furloughed workers would be returning to work, and also announced that the five shareholding directors in the firm were taking a 30% pay cut.
Urban Splash announced the temporary closure of all its sites and the factory three days after the UK was put in to lockdown by prime minister Boris Johnson. The modular housebuilder said at the time that work could not continue safely in the face of the coronavirus pandemic.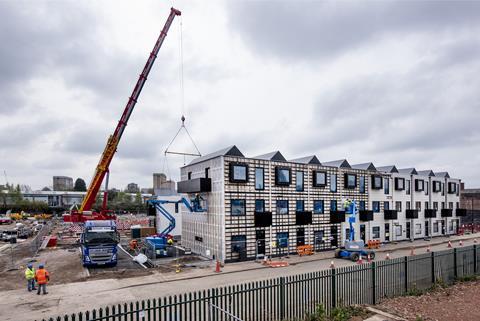 However, yesterday Tom Bloxham said the firm had brought in "robust" new practices to ensure safe working on site. He said: "The health and wellbeing of our team, suppliers and subcontractors has been the driver in every decision we've made this past month. And now, following the latest Construction Leadership Council guidelines, we are pleased to recommence construction, while continuing to keep our hard working colleagues safe."
The news comes a week after insurance giant L&G announced it had re-opened its modular housebuilding factory in Sherburn-in-Elmet near Leeds.