Administrators say 160 positions will be made redundant as modular business part-owned by Homes England enters administration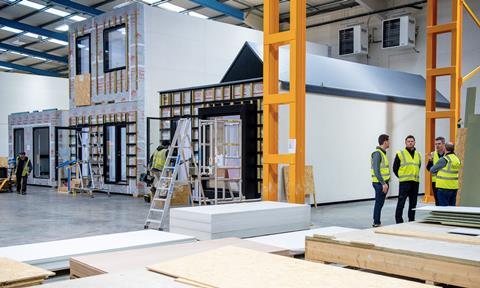 Homes England has said it will continue working with "ambitious and innovative partners" after modular housing business House by Urban Splash went into administration.
Administrators Teneo will now oversee the completion and sale strategies for the joint venture's development sites.Teneo will also look at sale options for firm's factory in Derbyshire.
Homes England owns 4% of shares in House by Urban Splash. A spokesperson for the agency said: "We are aware that an administrator has been appointed. We remain committed to working with ambitious and innovative partners to help diversify the housing market and increase productivity."
Urban Splash shareholders own 48% of the equity in the joint venture and Japanese house builder Sekisui House UK owns another 48%.
Teneo said the wider group of the Manchester-based regeneration developer Urban Splash was unaffected.
Adrian Berry, who is joint administrator with Daniel Smith at Teneo, said: "This appointment [of the administrators] follows various operational issues relating to the factory in Alfreton.
"We will now look to stabilise the US House Group [also known as House by Urban Splash] by providing a platform to complete certain developments and explore sale options for the factory and the other development sites. We would like to thank all employees and other key stakeholders for their continued support."
See also>> Countryside to cut staff and stage MMC volte face
See also>> Who is Peter Denton? Six things you need to know about the new Homes England boss
The US House Group has 187 staff in total. The administrators confirmed that 140 positions at Urban Splash Modular Ltd, and 20 of the 36 positions at Urban Splash Holdings Ltd, will be made redundant.
Urban Splash issued a statement confirming: "The directors of House – (Urban Splash House Holdings Group) have appointed administrators from Teneo to the company.
"The appointment of Teneo senior managing directors Adrian Berry and Daniel Smith to the company has no impact on the wider Urban Splash group or its operations, which continue to run successfully.
"The administrators will oversee completion and sale strategies for the company's developments."
In 2020 Urban Splash reopened a modular factory and in the same year it reported a pre-tax loss of £3.4m in the 12 months to 30 September 2019.