Housing secretary says Treasury has agreed to find funding package but not finalised deal
Michael Gove has said the Treasury has agreed to develop a funding package for the proposed roll out of a 'rationed' Right to Buy to housing association tenants, but admitted the details were yet to be agreed.
The housing secretary told the Levelling Up, Housing and Communities Select Committee that housing associations would be "seduced" to take part in the "voluntary" Right to Buy scheme, which would be funded to such an extent it would have no negative impact on associations' balance sheets.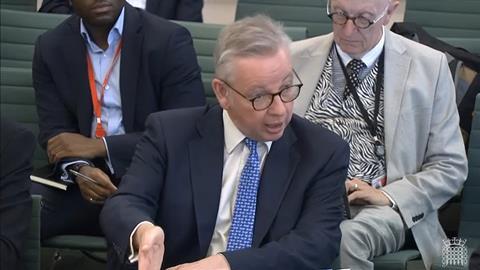 Gove has previously said that the plan, which will see rented homes sold off at a discount to housing association tenants in the same way as the Right to Buy already allows for council tenants, will be funded to allow homes to be replaced on a one-for-one basis.
He told the committee that replacement homes would also be "like-for-like" with those sold, but that the cost of the scheme meant that its availability would have to be capped, with those wanting to take advantage of it put on a waiting list until funding was available.
His comments follow widespread criticism following the launch of the policy last week by Gove and the prime minister, with many in the affordable housing sector describing it as an expensive distraction from delivering more affordable homes.
He said: "I'll be talking to housing associations across the country making it clear that it is our intention to ensure that funding is available so that they will see replacement stock one for one and like for like.
"I hope that on that basis, that our direction of travel will be embraced. My intelligence so far, is that while a lot of housing associations quite rightly have a number of questions that they want to ask in detail, that they're not opposed in principle – quite the opposite."
>> We must not let housing policy fall victim to political popularism
He said he didn't anticipate withholding grant from associations who declined to take part in the scheme or otherwise coercing social landlords from joining the voluntary right to buy scheme, and said the funding would not be taken from the existing Affordable Housing Programme.
Government funding would, he said, cover both the cost of the discount to tenants to buy the home, and any additional cost to replace it for the housing association. "It means that we will be in a position to ensure that housing associations don't see detriment to their balance sheets as a result," he said.
He said he will be saying more "in due course" about the funding package for the scheme, which was coming from "across government". Asked if the Treasury had agreed to a certain sum of money, Gove said: "The Treasury has agreed that it will be funded.
"One thing I should say is that the overall numbers who will benefit in any given year will be capped, and one of the things that we have to to judge is exactly how many people in any given year we can fund to enjoy voluntary RTB."
Last week National Housing Federation chief executive Kate Henderson said she was deeply concerned about the potential for the plans to result in a long term loss of affordable housing, which Gavin Smart, chief executive of the Chartered Institute of Housing, said risked having a "significantly negative effect on future housing supply."