Housing secretary says revamped policy will be funded to ensure sold off properties are replaced
Michael Gove has committed to making funding available to ensure that housing association homes sold under a new Right to Buy scheme are replaced with new supply on a one-for-one basis.
Speaking in advance of the full announcement of plans for a revamp of the former 2015 Conservative manifesto policy, which was later dropped after a pilot in the West Midlands met with mixed success, the housing secretary said the relaunch would see the plan rolled out nationwide, without impacting on the amount of social housing stock.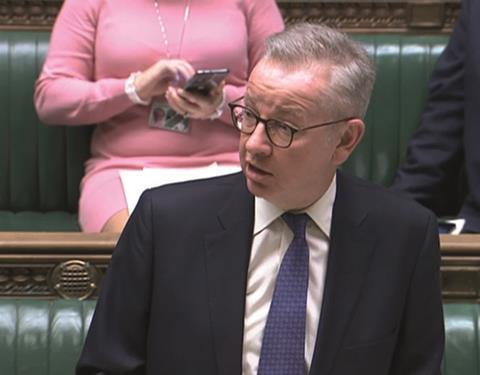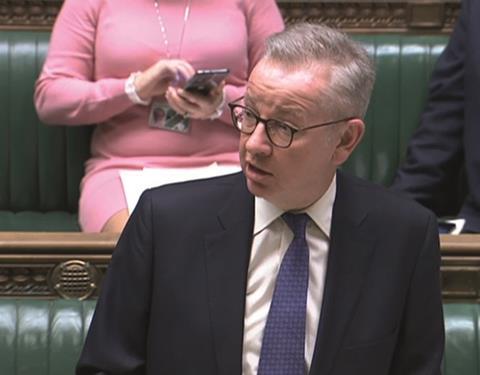 Gove (pictured, left) made his comments to BBC's Today programme ahead of a speech by the prime minister later today designed to relaunch his premiership in the wake of Monday's damaging confidence vote, which saw him secure the support of just 41% of his own MPs.
As well as relaunching the plans to extending the Right to Buy scheme to housing association tenants – widely seen in the affordable sector as likely to damage development capacity and erode the UK's social housing stock – Boris Johnson is also expected to launch plans for a review of mortgage finance which will see those on housing benefits able to access mortgages for the first time.
Under the Right to Buy policy, first introduced in the early 1980s for council properties by then prime minister Margerat Thatcher, tenants are given a large subsidy to help them buy their home.
Gove told the Today programme that the housing association Right to Buy pilot instituted after the 2015 election had proved there was demand to buy homes at a discount. He said: "Beyond that, one of the other things that we've appreciated from that pilot, is that you do need to make sure that you replace like for like one for one.
"Now, it is the case that the housing associations that have been involved in that pilot have been replacing properties, but we know that we need to make sure that the funding is there for them," he said.
A report into the pilot found that housing associations did not have plans to replace homes sold with as many new properties.
However, Gove insisted this was solvable, with the number of social homes also likely to be boosted by increasing housing supply overall. He said: "I think that you can do two things with this policy. You can both increase homeownership, which is a good thing in its own right, as we discussed, but you can also as a result, make sure that we expand social housing stock overall."
Gove said the scheme will now be rolled out "nationwide".
Prior to the announcement, the chief executive of the Chartered Institute of Housing, Gavin Smart, said the cost of bringing in Right to Buy in a way that allowed housing associations to replace stock would be equivalent to the total annual cost of the Affordable Homes Programme – around £2bn – hitting other housing funding and having "a significantly negative effect on future housing supply."
He said: "Right to Buy depletes the stock of social rented homes. Despite government commitments to the contrary, the evidence is that those homes are not replaced on a 1:1 basis and that the costs of the programme (funding discounts and replacement homes) are vast and do not represent value for money."
Likewise, Polly Neate, chief executive of the housing charity Shelter, branded the plans as "baffling, unworkable, and a dangerous gimmick".
"For decades the promise to replace every social home sold off through right to buy has flopped. If these plans progress we will remain stuck in the same destructive cycle of selling off and knocking down thousands more social homes than get built each year. The maths doesn't add up. The government needs to stop wasting time on the failed policies of the past and start building more of the secure social homes this country actually needs."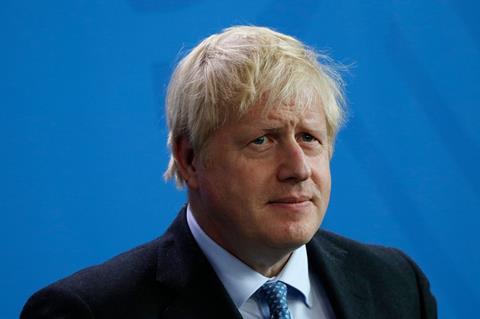 Boris Johnson (pictured, right) is expected to use a set-piece speech in Lancashire to set out a number of housing market reforms – including the Right to Buy policy along with a raft of other demand-side measures.
A statement from Downing Street said Johnson believed "too many people are spending huge sums of money in the private rental market when that money could be better spent on investing in their futures, in the form of mortgage payments on their own home". He is expected to set out reforms designed to allow people to save for a deposit "no matter their financial situation", including where they are in receipt of housing benefit.
However, some, including Labour MP Jess Phillips, have already questioned how this policy will work, given that benefit claimants must have £16,000 or less in cash or savings to qualify.
Charles Roe, director of mortgages at UK Finance, which represents mortgage lenders, said the mortgage industry recognised that today's announcements by the Prime Minister could help more people realise their dream of owning their own home.
However, he said lenders will have to consider carefully whether what is being proposed fits within rules designed to ensure responsible lending. He said: "Firms are committed to lending responsibly, with regulatory rules in place to ensure that mortgages are affordable – it will be important to carefully consider any changes to ensure they deliver good outcomes for customers throughout the life of the mortgage.
"We look forward to discussing the proposals and will continue working closely with the government to help more people get onto the housing ladder."
Downing Street said in a statement that the Prime Minister will say: "Over the next few weeks, the government will be setting out reforms to help people cut costs in every area of household expenditure, from food to energy to childcare to transport and housing.
"With more affordable energy, childcare, transport, and housing we will protect households, boost productivity and above all increase the rate of growth of the UK."