Housing associations will not have resources to replace sold homes, industry groups warn
Housing industry groups have criticised government plans to extend the Right To Buy scheme to allow housing association tenants to buy their homes.
Boris Johnson unveiled the move in a speech in Blackpool this afternoon which is widely seen as an attempt to reset his premiership following Monday's vote of no confidence, which the prime minister narrowly won.
Johnson said he wanted the scheme - which is intended partly to counter rising inflation - to be extended "within existing spending plans" and for each home sold to be replaced.
But housing bodies have hit back at the plans, saying that sales through the scheme would not raise enough money to build one-for-one replacements.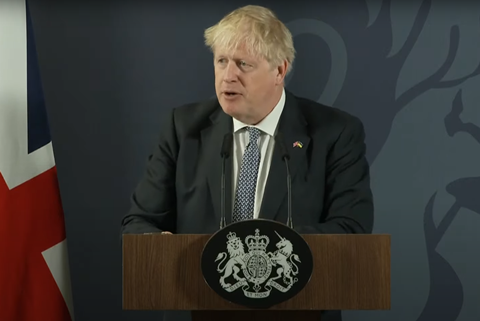 National Housing Federation chief executive Kate Henderson said the organisation was "deeply concerned" about the long term impact of Right To Buy.
She said: "Right to Buy pilots have shown that there is not enough money from sales to build new social homes to replace those sold, meaning a net loss of social housing.
"We support measures to help people buy their own home and housing associations already build thousands of homes for shared ownership every year, helping people take their first steps onto the housing ladder.
"However we are deeply concerned about the long term impact of Right to Buy and any loss of social housing will make the challenge of providing homes for those in need even harder."
Devising a housing association Right to Buy scheme that is fully funded and raises enough money to pay for one-for-one replacement homes has proved difficult in the past. The David Cameron government announced a plan in 2015 to fund a scheme by forcing councils to sell off higher value properties as they became empty. The Right to Buy extension was piloted by housing associations but was not rolled out nationally amid concern over its funding.
British Property Federation policy director Ian Fletcher said the policy "fundamentally misses the core issue" of helping people into social housing and reducing waiting lists.
"Extending Right To Buy runs the risk of exacerbating this challenge by diverting government funding away from new affordable housing supply," he said.
Fletcher added that it was important that the expansion of the scheme does not risk undermining private investment in the housing sector and reducing the supply of new homes.
JLL director of UK residential research Marcus Dixon said that an estimated 80% of tenants would be unable to buy their homes without discounts, which housing association were unable to offer because of existing cost pressures.
He said: "It is unlikely that housing associations will be able to offer sufficient discounts and replace stock like for like without government support.
"Even without Right to Buy, housing associations are under significant financial pressure.
"Alongside investment to improve their current portfolio they will need to ensure any remediation works are carried out to deal with cladding and fire safety as well as initiate plans to hit zero carbon targets by 2050. Not to mention additional investment in increasing the size of their rental portfolio."
See also>> Right to buy for housing association tenants 'not the right policy'
See also>>Gove commits to 'one-for-one' replacement in housing association Right to Buy
Meanwhile, CPRE campaigns and policy director Tom Fyans said the announcement would do nothing to address a shortage of homes in rural areas, calling it "another example of a government rapidly losing touch with the realities of rural life".
He added: "The number one lesson of Right To Buy in a rural context is that it decimated rural social housing stocks. What low-income families need is hundreds of thousands more truly affordable homes to live in. Those living in the countryside are hampered by low wages and high house prices. That's why the government needs to commit to building 145,000 social homes a year to fill the gap between supply and demand.
"The demand for social housing is growing nearly six times faster than the rate of supply in rural areas. At current rates, the backlog of low-income families needing accommodation would take 121 years to clear. This is an utterly unsustainable situation and potentially selling off the few remaining housing association properties we do have will make a bad situation immeasurably worse."
Johnson also confirmed plans trailed by Michael Gove yesterday to allow people on Universal Credit to use benefit payments to access mortgages.
The prime minister said the "benefits to bricks" scheme would "help millions realise the dream of home ownership".
Currently, Universal Credit is only available for people with savings below £16,000 and is usually not accessible to someone with a mortgage.