Council wants to build up to 250 '100% affordable' homes on key regeneration scheme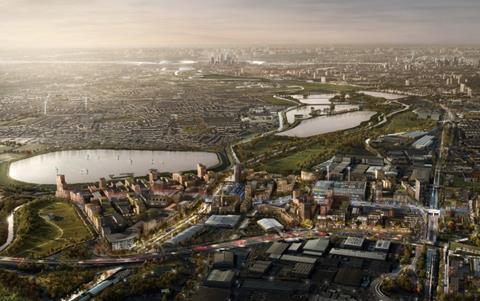 Enfield council is seeking a developer to build up to 250 homes, all of which it says will be affordable, on the next phase of its £6bn Meridian Water mixed-use development in north London.
The local authority said between 200 and 250 new homes would be built on the Meridian Water Two site alongside new workspaces for local people as part of the 85-hectare Meridian Water regeneration scheme.
Enfield said the project brief stated 50% of the homes should be for affordable rent, expected to be London Affordable Rent due to the availability of grant funding, and 50% should be intermediate, which includes both shared ownership and London Living Rent tenures.
The council said it expected to appoint a developer by the end of this year and once approval had been gained work would start next year, with completion in 2023.
Last summer Enfield announced it would be looking for development partners for the first two housing sites which would deliver around 1,000 new homes. When completed the Meridian Water scheme will eventually host 10,000 homes.
In July 2018 the council confirmed it would not be pursuing a single 'master developer' approach to the overall scheme. Instead said it would take lead responsibility for setting the timescales and goals of the project.
Barratt had been selected as preferred developer in 2016, but after Enfield said the housebuilder's terms would have represented a "poor deal" for both residents and businesses it withdrew in October 2017, before the local authority could terminate the arrangement.
Speaking about the latest homes scheme Enfield council leader Nesil Caliskan said it showcased the public sector "at its pioneering best".
She went on: "We are speeding up the delivery of new homes and jobs at Meridian Water and we continuing to make good progress towards delivering this major £6bn, 20-year regeneration programme which will deliver thousands of homes and jobs to Enfield.
"We want a development partner who shares our passion and who wants to help us deliver this world-class development."
Four miles from Enfield town centre, the freehold for the 0.7ha Meridian Two site is owned by the council.