Housebuilder increases sales rate
Crest Nicholson has reported an uplift in sales but has also warned that further build cost inflation due to the Ukraine war is already making itself felt.
The listed housebuilder, in a trading update today covering 1 November to 21 March, reported sales per outlet per week of 0.96, up from 0.8 in its last financial year.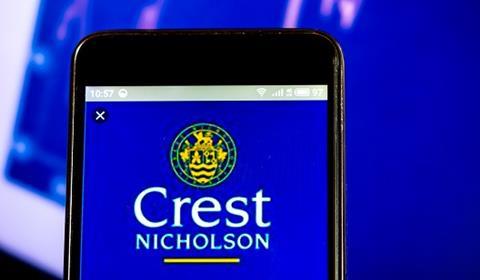 The £786m-turnover firm said this reflected 'strong sales momentum' as market conditions 'remain favourable' and demand high. It said its order book is now 84% covered for the financial year and it is confident it can meet its revenue targets.
However, it also warned inflation is also beginning to make itself felt.
See also>> Housebuilders and associations look for ways to help Ukrainian refugees
It said: "Input cost inflation is likely to increase because of rising energy costs and raw material supply disruption caused by the tragic conflict in Ukraine and is already starting to be seen.
"However, as illustrated during the COVID-19 pandemic, the group has demonstrated its effectiveness at managing its supply chain in turbulent times. In addition, we are also currently managing to successfully offset cost increases through sales price inflation."
The update comes after Crest Nicholson moved back into profit in the year to 31 October following a strong sales performance and an overhaul of its balance sheet. In January it reported pre-tax profit of £86.9m for the year compared to a £13.5m loss the previous year.