Housebuilder first to confirm it will sign agreement and estimates cost will be £80m to £120m
Crest Nicholson has become the first housebuilder to announce it will sign a 'pledge' to remediate mid-rise tower blocks under a proposed deal with the government.
The firm, in a market update today, said the Department for Levelling Up, Housing & Communities (DLUHC) had set a deadline of 5 April for housebuilders to confirm they will sign up to the deal. Neither the existence of the pledge nor the 5 April deadline have yet been confirmed by the government, however a housebuilding industry source said DLUHC will announce further details later this week.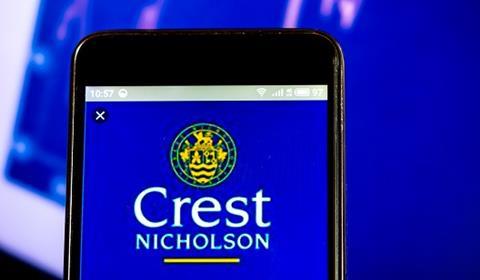 It said: "The board of Crest Nicholson today announces that it has confirmed to DLUHC its intention to sign the building safety pledge, which it believes is in the best interests of the group, taking further steps to support those living in affected buildings."
The firm said it was making a provision of £80-120m to cover the cost of the commitments contained in the pledge, which it said "currently represents its best estimate of this further liability".
It is not clear at this stage whether the pledge signed by Crest Nicholson refers only to its own buildings, or 'orphaned buildings' where the owners or original developers cannot be traced.
Sources told Housing Today last week that the deal with government involves house builders pledging to repair buildings between 11 and 18 metres built themselves over the past 30 years without using cash from the Building Safety Fund.
See also>> Gove's cladding deal - what does it mean for the sector?
If confirmed, the deal and signing of the pledges would partly resolve the dispute over who covers the cost of remediating mid-rise tower blocks after the government decided leaseholders should not pay.
Michael Gove had threatened to use new powers, included in the Building Safety Bill, to restrict the activities of housebuilders if they don't pay into a proposed £4bn cladding fund.
Crest said: "Failing to agree to these new guidelines would carry further consequences, implemented by DLUHC, that would impact the Group's ability to operate and trade normally within the housing market.
"These restrictions will be enacted in law through proposed amendments to the Building Safety Bill which is currently passing through parliament."