But housebuilder raises profit expectations for full year amid stronger sales
Crest Nicholson has reported a pre-tax loss of £52.5m for the half-year.
The figure, for the six months to 30 April, compares to a £36.3m profit for the same period the previous year.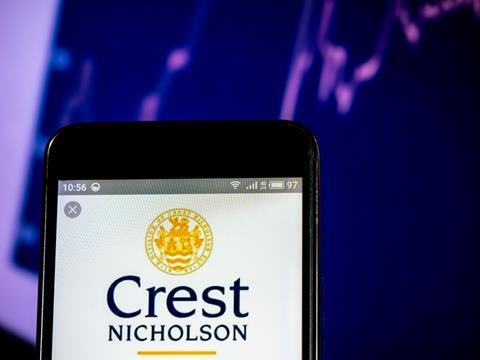 The half-year results were hit by a £105m one-off cost to fix buildings with fire safety defects under the developer pledge agreed with government. The housebuilder had previously estimated the bill for remediating its blocks over 11 metres in height to be between £80m and £120m.
Despite the loss, Crest Nicholson said it has upgraded its expected adjusted profit before tax for the full year to between £135m to £140m. This figure excludes the one-off costs for building safety.
The housebuilder increased its forward sales for the half-year from 2,771 to 2,891 year-on-year, while its sales per outlet per week from 0.69 to 0.72.
The housebuilder's turnover increased 12.3% for the period to £364.3m while its completions rose 7.8% to 1,096 units.
It said: "Despite the resumption of Stamp Duty, following its suspension during COVID-19, demand for housing has remained strong in the first half.
See also>> Full list of developers to have signed the cladding pledge
See also>> Are we seeing the start of a housing development slowdown?
"A lack of supply, plentiful mortgage availability and issuance and ongoing changes to the balance of home and office working patterns have all supported this backdrop."
The loss for the first half of the year means Crest Nicholson's return to profit after a difficult few years has been shortlived. The housebuilder in January reported a pre-tax profit of £86.9m in the year to 31 October compared to a £13.5m loss the previous year.
It restructured following a string of profit warnings pre-pandemic and in 2020 announced redundancies as it slumped into the red.