First official data on net additions shows extent of the hit to housebuilding sector from 2020 lockdown
Housing completions fell to their lowest level for five years in the covid-hit year to March, according to the first comprehensive official figures covering the period.
Figures published today by the Department for Levelling Up Housing and Communities showed that there were 216,490 net additional dwellings created in the 2020/21 year – a period which covered the first initial covid lockdown in spring 2020 – a drop of more than 26,000 on the 2019/20 numbers.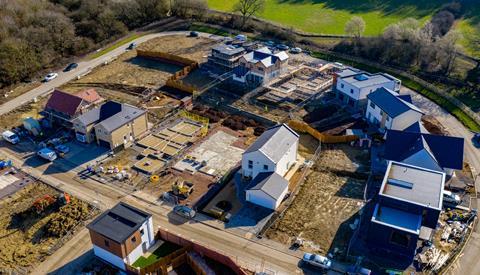 This represents a fall of 11% from last year's high of 242,700, and is the lowest number since the 189,650 recorded in 2015/16.
However, while significant, the drop is well below the impact initially feared when the pandemic shut all housebuilding sites for two to three months in 2020, at which point the Construction Products Association predicted completions would fall by more than 40% in 2020.
It is also 74% above the low point of net additions reached in the economic downturn seen in the wake of the credit crunch. The official statistical release said the decrease in net additions "may be due, in part, to the restrictions introduced during Spring 2020 in response to the COVID-19 pandemic".
The government's annual net additions' numbers are seen as the most reliable indicators of housebuilding volumes, and include figures for new build completions, conversions and changes of use, netted against demolitions.
This year's 216,490 net additions number included 194,060 new build completions, a drop of 11%, 3,870 conversions and 23,790 changes of use to residential. In total 11,300 of the additions came from permitted development rights, down from 12,375 in 2019/20.