Housebuilder gets permission for latest phase of £800m scheme alongside L&Q
Housebuilder Countryside and social landlord L&Q have secured planning permission for a further 336 homes on their mammoth 3,500-home redevelopment of the South Acton Estate in West London.
The developers, who have been working together to redevelop the 2,100-home council estate since winning a council tender for the job in 2010, were given planning permission for phases 8.1 and 8.2 of the scheme at a planning committee last week.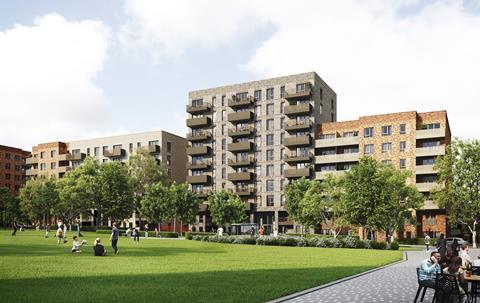 These latest phases of the £800m scheme were designed by architect Stitch, and will include houses, apartments and maisonettes, with the redevelopment overall providing 50% affordable housing.
The consortium said that while only 20% of existing residents of the estate wanted rehousing in the same place in the first phases, this has risen to 94% in the latest phase.
The work will require the demolition of existing 1950s tower blocks Barwick House, Carisbrooke Court and Ludlow Court as well as the existing south Acton Working Men's Club. The new scheme is designed to link the Acton Gardens Community Centre at the heart of the project with the newly created homes in phase seven.
The redevelopment overall will see L&Q and Countryside build 3,463 new homes, with more homes for social rent than remained on the estate prior to redevelopment.
Darren Parker, director of project management and development at L&Q said: "We're proud that this phase will provide a mix of social rent, shared ownership, and private sale homes, for new and existing residents, alongside a new road, walking routes and landscaping improvements for people to use and enjoy."