Two homes have been installed in Coventry for housing association after being factory-built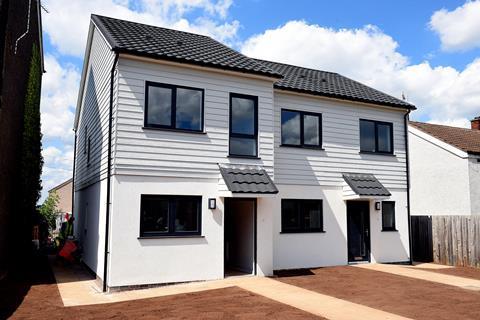 The first modular homes to be produced for Citizen, the housing association formerly known as WM Housing, have been delivered to a site in Coventry.
The homes (pictured) were designed and built by Totally Modular in Cradley Heath, near Birmingham, and transported by lorry to the Littlethorpe site in Willenhall.
They were erected in 21 weeks versus the 32-week schedule for a home built using traditional methods.
The two volumetric modular homes – a two-bedroom (left) and a three-bedroom house (right) – each cost £134,000 to build, with part of the funding coming from the government's housing delivery agency Homes England and Coventry city council.
A key aspect of the decision to use modular methods was the small size of the site, according to Richard Whittaker, Citizen's development director: "The Littlethorpe site is small and using traditional building methods would have been too disruptive."
John Connolly, managing director of Totally Modular, said up to 95% of the homes were built in his firm's factory before being delivered to the site, craned into position onto installation pads and then hooked up to the mains.
Citizen said it would be assessing the experience of the houses' tenants and taking a view on whether to locate more modular homes in the west Midlands.
Also in Coventry Citizen is working to build a further 45 homes – 37 of which will be affordable – including nine on a site that was previously occupied by 30 garages.
The four sites are due to be completed early next year.