Materials giant Breedon and leading brick suppliers have slashed manufacturing
Materials firms are suspending production as the coronavirus outbreak impacts both demand and the ability to operate.
Breedon has said is temporarily stopping work at nearly all of its UK plants given the situation around covid-19.
The firm said its Hope cement plant in Derbyshire and operations which serve "critical supply needs" would remain open.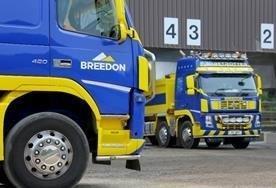 In a statement the firm said: "In light of recent government measures, and to ensure the safety and wellbeing of our colleagues, subcontractors, customers and communities, we have decided temporarily to suspend production at our UK sites.
"Following the more stringent measures introduced by the UK government on 23 March, there has been an immediate and significant reduction in demand for our products which we expect to continue until restrictions on movement are relaxed."
Breedon said its operations in the Republic of Ireland, including its cement plant at Kinnegad in Westmeath, continue to operate pending further guidance from the Irish government.
Meanwhile, the UK's biggest brick manufacturers are closing their facilities as part of the coronavirus lockdown. They say there are millions of spare bricks already produced and in stock.
The Brick Development Association (BDA) has confirmed that manufacturers across the country are responding to Boris Johnson's instruction that only essential services be kept open by suspending their manufacturing facilities.
BDA member manufacturers produce 80% of the clay bricks used in the UK's built environment each year.
While safeguarding measures, including the use of personal protective equipment and appropriate social and work-related distancing protocols, were already in place, the manufacture of clay bricks could not be considered an essential service, the association said.
The BDA said it had been advised that firms were beginning to wind up production and it expects deliveries to slow down and then cease.
Keith Aldis, the BDA chief executive, said: "With approximately 400 million bricks currently in stock in the UK, the industry has capacity to begin supplying the market again as soon as quarantine restrictions are eased."