Homes England chooses housebuilder for historic school campus
Barratt and David Wilson Homes have been chosen by Homes England to build 300 houses on the site of a former school in Macclesfield.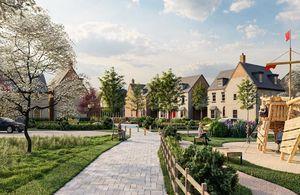 The government's housing agency said in a statement it had selected the two housebuilders as preferred developers on the scheme at King's School campus at Fence Avenue in the Cheshire town.
The scheme will see Barratt, which owns David Wilson Homes, retain the historic school building, which will be converted in to flats, with 273 new homes alongside.
Homes England said a high-quality design approach had been adopted for the scheme, blending it into the existing landscape and reflecting the character and style of the area.
The agency said its intervention meant that the site will now deliver 90 affordable homes, in partnership with housing association Torus, rather than the 34 originally proposed under the outline planning consent in place when it bought the site in 2018.
Construction is due to start when the new school campus replacing the existing site is open for students, which is expected to be in September.
Stephen Kinsella, chief land and development officer at Homes England, said: "This is a significant step forward for the development of Fence Avenue, where our innovative approach has demonstrated our ability to intervene in the market and unlock land for new homes, while facilitating the school's ambitions for its new campus."