Housebuilder maintains raised profit expectations and says build cost inflation being outpaced by house prices
Housebuilder Vistry said it is on track to deliver profits against significantly raised expectations for the year, despite warning over a growing threat from materials shortages.
In a half year trading update the housebuilder, formed from the merger of Bovis Homes with the housing businesses of Galliford Try at the start of last year, said it had built 3,126 homes in its housebuilding business and 895 in its partnerships operation in the six months to June 30.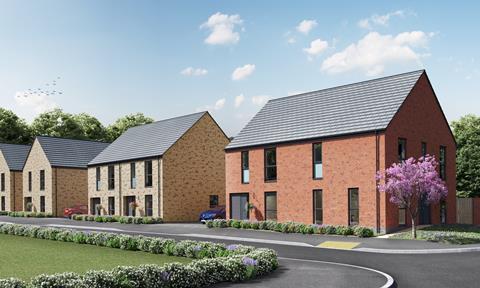 The firm said its private sales rate had increase to 0.76 homes per site per week, not only above the covid-hit 0.45 figure recorded in the same period in 2020, but also above the 0.69 seen in 2019.
Vistry said the results, which saw it 93% forward sold for the year, displayed a first half performance "significantly ahead of expectations at the start of the year."
However, amid growing industry concern over the supply of construction materials, particularly timber, the firm warned that it was seeing "pressure on the materials supply chain resulting in extended lead times and inflationary pressures on certain products."
It said it was managing the challenges posed by this, and had "full visibility" on its material requirements out to the end of the financial year, with "an agreed supply programme in place".
While the business did not say what impact the shortages were having on the cost of prices, it said the benefit from sales price increases was "more than offsetting any cost inflation for the Group."
Earlier this year QS Core Five said that it expected housebuilding materials costs to escalate by 6.7%, while mortgage lender the Halifax this morning reported that prices had risen 8.8% in the last twelve months.
Chief executive Greg Fitzgerald said: "There is some pressure across the material supply chain in terms of price increases and extended lead times, but we are working well with our partners to ensure successful delivery of our build programme and expect this position to ease through the second half. House price inflation is more than offsetting any cost pressure."
Overall, he said the firm had had a "very strong first half with a step up in completions, price increases, improved profitability and strong cash generation, all ahead of our expectations at the start of the year."
In May Vistry said it expected pre-tax profit for the year to hit £325m, up from the previous analyst consensus of £310m. Today it said it was confident it will deliver consensus market expectations2 for FY21, and maintains its expectations for FY22